Lord Fin Tube-Two core advantages of studded tubes
The Studded Tubes (also known as needle tube) is a cylindrical pin arranged in square or hexagon and welded on the surface of the heat exchange tube equally. The high-efficiency and energy-saving pin tube heat exchange tube group is formed by the assembly and welding of the square or hexagon heat exchange pin tube. Because the pin rib of the pin tube is a cantilever structure with compact structure, the pin rib vibrates under the impact of the air flow, making it difficult for soot to accumulate. In addition, the strong turbulence and erosion of the flue gas make the pin tube heat exchange element have high heat transfer efficiency and strong self-cleaning ability
The Studded Tubes is especially suitable for the compact structure of waste heat boiler, oil fired boiler, gas fired boiler and oil heater. Under the same heat exchange, its weight and overall dimension have a significant reduction. Compared with other conventional enhanced heat transfer boiler tubes, the anti fouling performance of Studded Tubes group is improved greatly. Under the condition of low smoke temperature, the pin head pipe can still recover the waste heat economically, which has a broad application prospect in heat exchange and energy saving projects.
Uses of Studded Tubes, Steel studded tubes are used instead of finned tubes for heat transfer in the petrochemical industry, generally in furnaces and boilers where the surface is exposed to a very corrosive environment and where very dirty gas streams require frequent or aggressive cleaning.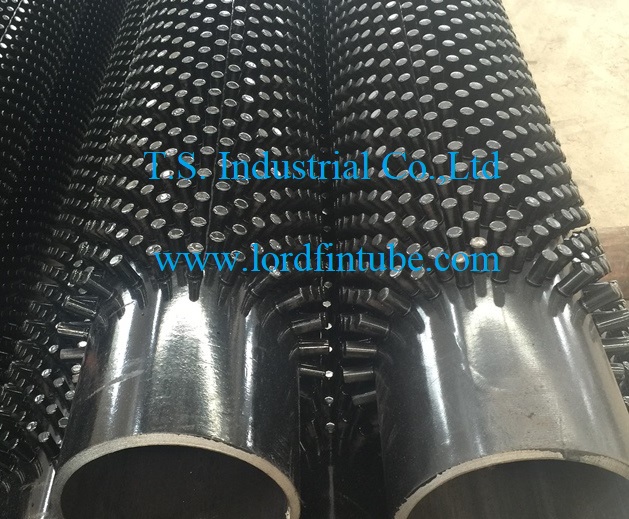 Das Nietenrohr (auch als Nadelrohr bekannt) ist ein zylindrischer Stift, der quadratisch oder sechseckig angeordnet und gleichmäßig an der Oberfläche des Wärmeaustauschrohrs angeschweißt ist. Die hocheffiziente und energiesparende Stiftrohr-Wärmetauscherrohrgruppe wird durch Zusammenbau und Schweißen des quadratischen oder sechseckigen Wärmetauscher-Stiftrohrs gebildet. Da die Stiftrippe des Stiftrohrs eine freitragende Struktur mit kompakter Struktur ist, vibriert die Stiftrippe unter dem Einfluss des Luftstroms, wodurch es schwierig wird, dass sich Ruß ansammelt. Darüber hinaus führen die starken Turbulenzen und die Erosion des Rauchgases dazu, dass das Wärmetauscherelement des Stiftrohrs eine hohe Wärmeübertragungseffizienz und eine starke Selbstreinigungsfähigkeit aufweist
Die Nietenrohre eignen sich besonders für den kompakten Aufbau von Abhitzekessel, Ölkessel, Gaskessel und Ölheizung. Bei gleichem Wärmeaustausch verringern sich Gewicht und Gesamtabmessung erheblich. Im Vergleich zu anderen herkömmlichen Kesselrohren mit verbesserter Wärmeübertragung ist die Antifouling-Leistung der Gruppe mit Nietenrohren erheblich verbessert. Unter der Bedingung einer niedrigen Rauchtemperatur kann das Nadelkopfrohr die Abwärme immer noch wirtschaftlich zurückgewinnen, was eine breite Anwendungsperspektive bei Wärmeaustausch- und Energiesparprojekten hat.
Verwendung von Nietenrohren Stahl-Nietenrohre werden anstelle von Rippenrohren zur Wärmeübertragung in der petrochemischen Industrie verwendet, im Allgemeinen in Öfen und Kesseln, in denen die Oberfläche einer sehr korrosiven Umgebung ausgesetzt ist und in denen sehr schmutzige Gasströme häufig oder aggressiv gereinigt werden müssen.
Los tubos con clavos (también conocidos como tubos de agujas) son un pasador cilíndrico dispuesto en cuadrado o hexágono y soldado en la superficie del tubo de intercambio de calor por igual. El grupo de tubos de intercambio de calor de tubo pasador de alta eficiencia y ahorro de energía está formado por el ensamblaje y la soldadura del tubo pasador de intercambio de calor cuadrado o hexagonal. Debido a que la costilla del tubo del pasador es una estructura en voladizo con estructura compacta, la costilla del pasador vibra bajo el impacto del flujo de aire, lo que dificulta la acumulación de hollín. Además, la fuerte turbulencia y la erosión del gas de combustión hacen que el elemento de intercambio de calor del tubo del pasador tenga una alta eficiencia de transferencia de calor y una fuerte capacidad de autolimpieza
Los tubos con clavos son especialmente adecuados para la estructura compacta de la caldera de calor residual, la caldera de aceite, la caldera de gas y el calentador de aceite. Bajo el mismo intercambio de calor, su peso y dimensión general tienen una reducción significativa. En comparación con otros tubos de caldera de transferencia de calor mejorados convencionales, el rendimiento antiincrustante del grupo Tubos con tachuelas se ha mejorado considerablemente. Bajo la condición de baja temperatura de humo, la tubería con cabeza de pasador aún puede recuperar el calor residual económicamente, lo que tiene una amplia posibilidad de aplicación en proyectos de intercambio de calor y ahorro de energía.
Usos de los tubos con clavos, los tubos con clavos de acero se utilizan en lugar de los tubos con aletas para la transferencia de calor en la industria petroquímica, generalmente en hornos y calderas donde la superficie está expuesta a un entorno muy corrosivo y donde las corrientes de gas muy sucias requieren una limpieza frecuente o agresiva.
Links to Lord Fin Tube: