Lord Fin Tube-Double "L" fin tube
Double "L" fin tube is used on applications requiring additional corrosion protection to the surface of the base tube. It is produced similar to "L" fin but has a wider fin base which is overlapped during the winding process.
Operating temperature is a little higher than for L fin tube.
A wide range of both tube and fin materials are available.
Heat transfer performance can be enhanced by utilising unique internal solder bonded or pulled in secondary surface/turbulator system.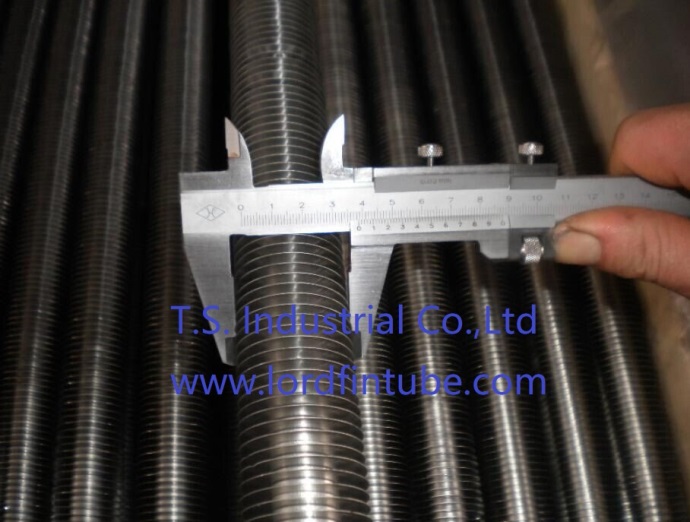 Bei Anwendungen, die einen zusätzlichen Korrosionsschutz an der Oberfläche des Grundrohres erfordern, wird das Doppel-L-Flossenrohr eingesetzt.Es wird ähnlich wie die L-Flosse hergestellt, hat aber eine breitere Flossenbasis, die während des Wickelprozesses überlappt wird.
Die Betriebstemperatur ist etwas höher als bei L fin.
Es gibt eine große Auswahl an Rohr- und Flossen-Materialien.
Die Wärmeübertragungsleistung kann durch die Verwendung eines einzigartigen internen Lots verstärkt oder in Sekundär-Oberfläche/Turbulator-System gezogen werden.
Los tubos de aleta de doble L se utilizan en aplicaciones que requieren protección adicional contra la corrosión de la superficie del tubo de base.Su producción es similar a la de las aletas de aleta L, pero tiene una aleta más amplia que se superpone durante el enredo.
La temperatura de funcionamiento es ligeramente superior a la de las alas L.
Hay una gran variedad de materiales de tubos y aletas.
El rendimiento de la transmisión de calor puede mejorarse mediante una soldadura interna única o mediante un sistema de sobrealimentación de superficie / Turbo secundario.
Links to Lord Fin Tube: