Lord Fin Tube-H-fin tubes
H-fin Tubes have two steel discs (fins or butterfly fins) symmetrically welded together with bare tubes, creating a shape that looks somewhat like the letter "H", creating an efficient energy-saving, extension heating surface. H-fin Tubes use high rate of fusion welds and have high tensile strength, little contact resistance, heat transfer performance and scalability are additional advantages. The H-fin Tube is assembled with the H fin type economizer, which has high efficiency, little resistance, less wear, and is light weight.
Compared to the traditional fin tube or spiral finned tube, the H-fin tube can greatly expand the heating surface. When the extent of the effect of heat transfer is the same. The H-fin tube economizer takes up less space. In addition to the H economizer, H superheater, H air heater, and many other products. The H fin tube has been included in the "Chinese high-tech product catalog".
Structure the basic form of "H"type and the double "H"type.
Our products can be modified according to our customers' needs and the situation. We design and manufachure safe, reliable and efficient H-fin tubes. HD Boiler has also completed stand-alone product quality assurance systems. Production of H-fin tunes are with high heat transfer efficiency, they have flue gas resistance and are designed for a small space. H-fin tubes can be widely used in utility boilers, industrial boilers, marine power, metallurgy, the chemical industry and other waste heat recovery heat exchanger units.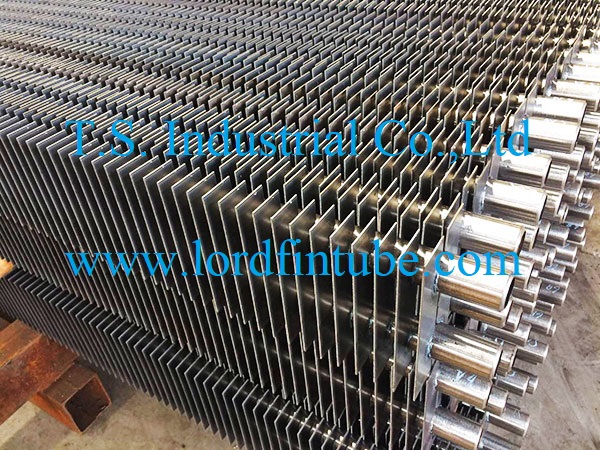 El tubo con aletas en forma de H se forma soldando dos placas de acero con un arco en el medio simétricamente al tubo de luz para formar una aleta (costilla o disco). Productos que ahorran energía en superficies calientes.
El tubo con aletas en forma de H tiene las ventajas de una alta velocidad de fusión de soldadura, alta resistencia a la tensión de soldadura, resistencia térmica de contacto pequeña, buena transferencia de calor y fuerte capacidad de expansión. El economizador de tipo H montado con él tiene las características de alta eficiencia de intercambio de calor, baja resistencia, bajo desgaste y peso ligero. En comparación con los tubos con aletas tradicionales y los tubos con aletas en espiral, los tubos con aletas en forma de H pueden maximizar la superficie de calentamiento.
En la medida en que el efecto de intercambio de calor sea igual, el economizador de tubo de aleta en forma de H puede ahorrar mucho espacio y volumen. Además del economizador tipo H, también se puede ensamblar en evaporadores tipo H, sobrecalentadores tipo H, calentadores tipo H y muchos otros productos. Los tubos con aletas en forma de H se han incluido en el "Catálogo de productos de alta tecnología de China".
Forma de estructura: La forma básica es tipo "H" simple y tipo "H" doble.
Nuestra empresa puede diseñar y fabricar tubos con aletas en forma de H seguros, confiables y eficientes de acuerdo con las necesidades del cliente y la situación real de la transformación de la central eléctrica. La compañía tiene un sistema de garantía de calidad de producto completo e independiente.El tubo de aleta H producido tiene las características de alta eficiencia de transferencia de calor, baja resistencia a los gases de combustión, acumulación de cenizas ligeras, desgaste pequeño y ocupación de espacio pequeño. Los tubos con aletas en forma de H se pueden utilizar ampliamente en calderas de plantas de energía, calderas industriales, energía de barcos, recuperación de calor de desechos químicos metalúrgicos y otros componentes de intercambio de calor.
Das H-förmige Rippenrohr wird durch Schweißen von zwei Stahlplatten mit einem Bogen in der Mitte symmetrisch zum Lichtleiter gebildet, um eine Flosse (Rippe oder Scheibe) zu bilden. Die vordere Form ist dem Buchstaben "H" ziemlich ähnlich, was eine effiziente Erweiterung darstellt. Energiesparende Produkte auf beheizter Oberfläche.
Das H-förmige Rippenrohr hat die Vorteile einer hohen Schweißnahtschmelzrate, einer hohen Schweißzugfestigkeit, eines geringen Kontaktwärmewiderstands, einer guten Wärmeübertragung und einer starken Expansionsfähigkeit. Der damit zusammengebaute Economizer vom Typ H weist die Eigenschaften einer hohen Wärmeaustauscheffizienz, eines geringen Widerstands, eines geringen Verschleißes und eines geringen Gewichts auf. Im Vergleich zu herkömmlichen Rippenrohren und Spiralrippenrohren können H-förmige Rippenrohre die Heizfläche maximieren.
In dem Maße, in dem der Wärmeaustauscheffekt gleich ist, kann der H-förmige Rippenrohr-Economizer viel Platz und Volumen sparen. Neben dem Economizer vom Typ H kann er auch in Verdampfer vom Typ H, Überhitzer vom Typ H, Heizgeräte vom Typ H und viele andere Produkte eingebaut werden. H-förmige Rippenrohre wurden in den "China High-Tech Product Catalog" aufgenommen.
Strukturform: Die Grundform ist vom Typ "H" und vom Typ "H" doppelt.
Unser Unternehmen kann sichere, zuverlässige und effiziente H-förmige Rippenrohre nach Kundenwunsch und der tatsächlichen Situation der Kraftwerkstransformation entwerfen und herstellen. Das Unternehmen verfügt über ein vollständiges und unabhängiges Produktqualitätssicherungssystem. Das hergestellte H-Finnenrohr weist die Eigenschaften einer hohen Wärmeübertragungseffizienz, einer geringen Rauchgasbeständigkeit, einer leichten Ascheakkumulation, eines geringen Verschleißes und einer geringen Raumbelegung auf. H-förmige Rippenrohre können in Kraftwerkskesseln, Industriekesseln, Schiffskraft, metallurgischer chemischer chemischer Abwärmerückgewinnung und anderen Wärmeaustauschkomponenten weit verbreitet eingesetzt werden.
Links to Lord Fin Tube: