U bent cold drawn seamless tubes for heat exchangers used widely in chemical, petrochemical and energy plants
1. Reference standards and steel grades
"U" bent tubes for heat exchangers can be supplied in accordance
with the following norms and steel grades :
Reference standards and Steel Grades
Norm Steel Grade
ASTM A556 Gr. A2 - B2 - C2
ASME SA556 Sect.II Gr. A2 - B2 - C2
"U" Bent tubes in accordance with the standards detailed in table 1, part A can be requested.
The bent area can be subject to stress relieving heat treatment by joule effect in
inert atmosphere.
- Minimum radius treated = 28 mm.
- Maximum radius treated = 750 mm.
2. Dimensions and lengths
Tubes with the following external diameters in mm can be bent a upon agreement: 15,8 - 16,0 - 17,0 - 18,0 - 19,05 - 20,0 - 21,3 - 25,4 - 26,7 - 31,8 -38,1.
The minimum feasible radius is : 1,5 x external diameter
The maximum feasible radius is 1500 mm.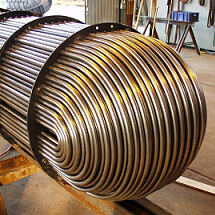 3. Tolerances
Tolerances (diameter and wall thickness) according to ASTM A 556 or given in the standards detailed in table 1 point A are respected.
Bending tolerances.
The tolerances stipulated in ASTM A 556 are respected.
Minimum wall thickness tolerances in the bent area conforming to the TEMA standard "Class R heat exchangers" can be requested or in accordance with specific requests.
4. Checks and test
All the mechanical and technological tests stipulated in the cited standards are carried out.
Leak tightness test: electromagnetic test (Eddy Current) is performed on straight tubes. Hydrostatic test on bent tubes is performed only if expressly requested, specifying the test pressure
Standard Technical Range
OD 9.5mm - 38.1mm
WT up to 6.35mm
Bending radii 1.25 x OD up to 1700mm
Bends can be supplied in accordance with TEMA R / ASTM SA/A556
Leg length up to 15000mm
Heat treatment where required by electric furnance or direct resistance
Hydrotesting up to 10,000 psi
Additional Testing
Dye penetrant of U bend area
PMI testing
Heat Treatment
We are equipped to carry out heat treatment of bends plus a minimum 150mm of leg.
Heat treatment equipment is computer controlled with the added facility of data recording.
An argon protective atmopshere is used inside stainless and special alloy tubes during heat treatment.
We can provide all types of annealing; solution annealing and stress relieving.
Measuring, Cutting, Deburring and Cleaning
U bends are produced, controlled and measured fully in accordance with relevant standards.
All tubes are cut to the specified leg lenghts, ends deburred and the bores are internally cleaned with dried air.
Packing
For roadfreight in timber fingers or skids.
In strong open or closed wooden boxes depending destination.
Each bundle is protected with plastic sheets.
Customers can provide their own packing or Salem can prepare a packing plan.
Detailed packings lists are attached to wooden cases to give quick and clear identification of contents.
U bent cold drawn seamless tubes