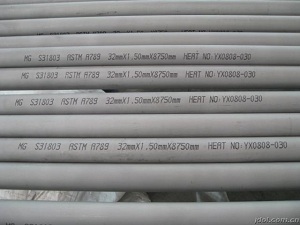 OPTION A - SA789-S31803 (seamless)
1785- 19.05 x 1.651 min wt x 10,115mm Long
OPTION B – SA210-A1 (seamless)
1785- 19.05 x 2.11 min wt x 10,115mm Long
6 Sample tube pieces (300mm long) to be sent to our office ASAP for Third Party Inspection
The samples will be used for verification of the shipped material.
All samples to be from same Ht No/ batch No, Lot No... as per mill production run.
All tubes to be supplied complete with material test certificates in accordance with EN10204-3.1.
Material certificates MUST identify the original steelmaker.
Duplex Tubes to be supplied in the solution annealed condition. This must be shown on material test certificates.
Tubes can be Eddy Current tested in lieu of hydro test.
Duplex Tubes to be pickled and passivated after solution annealing.
Tubes should be PMI inspected.
Packaged & protected for sea & road freighting. ISPM15 compliant timber crates.
No origin restrictions stated in request.
Please state country of origin with your offer.
Links to Fin Tube: