Tin brazed copper finned tube: copper tube - copper finned tube soldered firmly, welding rate of 100%, no contact thermal resistance, heat transfer capacity, has the advantages of long-term use in high temperature conditions not loose.
Application: mainly used for heat exchanger of vacuum furnace heat exchanger.
With advanced production equipment, finned tube gas protection brazing furnace production equipment and technology, professional production and processing of various types of finned tube, heat pipe heat exchanger components and products, strong technical force, strict management, reliable product quality and reasonable price concessions
Phosphorus-copper brazed finned tube with copper tube has 100% weld rate, no contact thermal resistance, small fin wrinkle, large heat transfer capacity and working temperature of 550 C.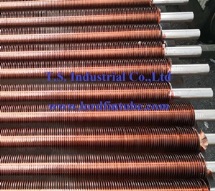 Brazed finned tubing offers a seamless metallurgical bond between fin and tube. A seamless metallurgical bond results in this type of attachment being ideal for rigorous, high-temperature applications. When the temperature rises or falls the tube expands or shrinks due to temperature never relaxes its grip. Brazed finned tubing in similar or dissimilar metals for increased heat transfer efficiency. The bond created between the tube and the fin ensures a stress-free, uniform, and non-porous contact. This bonding allows for thinner tube walls compared to a welded fin to tube.
Brazed Copper Finned Tube|Tin Brazed Copper Finned Tube
In order to forward you a promt offer we would be pleased to receive you detailed enquiry including:
• Base tube material
• Base tube size (OD x WT x Length)
• Fin material
• Fin type
• Fin diameter or height
• Fin thickness
• Fins per inch, meter or fin pitch
• Lenght of plain, unfinned ends
• Finned Tube Quantity
(Additional fabrication, such as bend or weld the tubes into tubeplate or assembly)
Keywords: Fin tubes, Finned tube, Finned Pipe Helical Finned Tubes, Solid fin tubes,Serrated finned tube, Helical Serrated Finned Tubes, Square Fin Tube,Rectangular Double H welding Fin Tube,Tubos Aletados