Lord Fin Tube-Coiled Aluminum Finned Tube|Finned Helical Coil
Coiled Aluminum Finned Tube|Finned Helical Coil | Finned Tube Coil
Finned tube coil heat exchangers are usually used in gas to liquid exchanges. The heat transfer on the gas side are generally much lower than the liquid side and fins are required on the gas side. The fins on the outside of the tubes may be normal on individual tubes and may also be transverse, helical, or longitudinal. Longitudinal fins are commonly used in double-pipe or shell-and-tube heat exchangers with no baffles. The fluids may be gases or viscous liquids.
TS provides high quality Coiled Aluminum Finned Tube and Copper/ brass/ Cu-Ni tubes & pipes.
The wide range of product portfolio of coils with different tube diameters, tube patterns, fin profiles, materials and options allows us to customize our coils for any specific application and fluids: air heaters, air coolers, condensers and evaporators for HVAC and various industrial applications.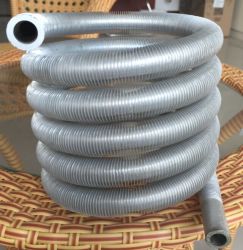 Standards: ASTM B111/ ASME SB111, ASTM B251, BS EN1057 or closer
Size range: OD 2.0 to 350mm, WT 0.3 to 50mm, Length 18m or as request.
Testing: 100% Eddy Current Testing, 100% hydraulic Testing.
Delivered in straight lengths or as U-bent tubes.
We also supply copper alloy complementary products for heat exchanger applications. Finned Tube,Tubesheet, EEMU 146 pipe fitting, EEMU 145 pipe flange etc.
Links to Lord Fin Tube: