Lord Fin Tube-Elliptical finned tube
The elliptical finned tube is composed of a base tube elliptical tube and outer fins. The elliptical finned tube is used as a high-efficiency heat exchange element in heat exchange equipment. Common ones include elliptical rectangular finned tubes, elliptical elliptical finned tubes, elliptical circular finned tubes, spiral elliptical flat tubes, elliptical H-shaped finned tubes, etc. Oval finned tubes are receiving attention because of their superior performance to round finned tubes. At present, oval finned tubes have been widely used in industrial fields such as ethylene and oil refining.
The external resistance of the tube is small, and the heat exchange efficiency is high, so that the heat exchange equipment tends to be compact, lightweight, efficient, and miniaturized. Although research on them has achieved many results, there is still much research to be done.
(1) Elliptical finned tubes have many advantages,However the research is scarce.
(2) Fin efficiency plays a key role in heat transfer calculations. There are many methods for calculating the fin efficiency of elliptical fin tubes, but they are basically based on the equivalent method. There are some deviations in the equivalent method. These deviations should be corrected when used in guiding the actual project. Therefore, in order to obtain more accurate results and more convenient to guide the project, it is necessary to conduct more systematic research in the future.
(3) Research on the internal and external characteristics and heat transfer laws of elliptical finned tubes has been very comprehensive. Scholars at home and abroad have done a lot of theoretical analysis, experimental research and numerical simulation. However, there are relatively few studies on flat tube finned tubes, especially on the inside and outside of flat tube finned tubes, temperature and velocity fields. Although the resistance of the flat tube fin tube on the air side is relatively small and the heat transfer coefficient is high, the internal fluid resistance is relatively large and the refrigerant charge is relatively small, which limits the application of the flat tube fin tube in the heat exchanger. Therefore, how to solve the problem of large internal flow resistance of flat tubes requires more and more in-depth research.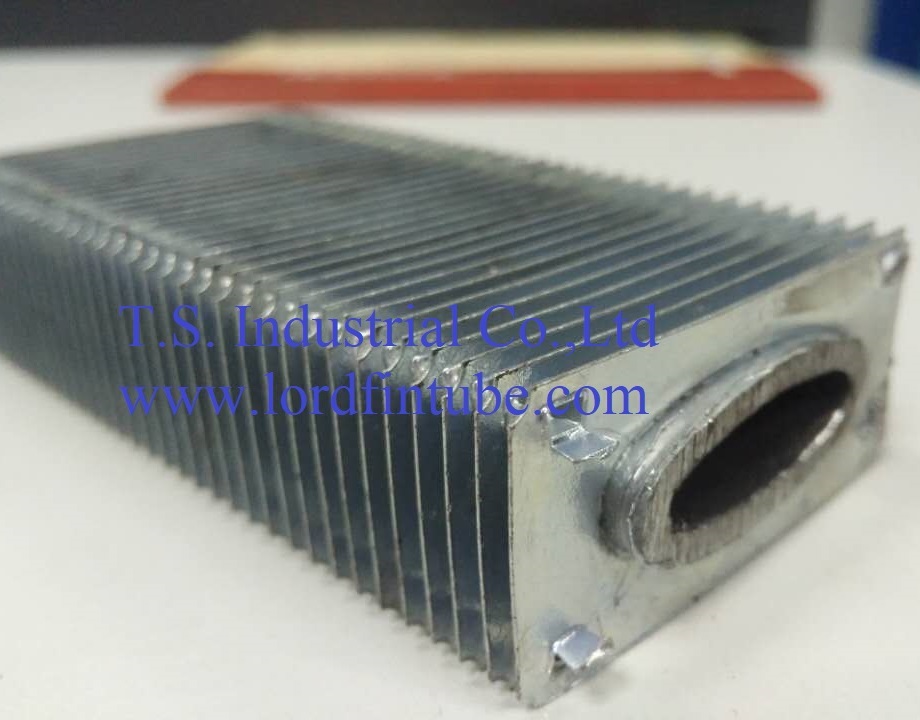 El tubo con aletas elípticas se compone de un tubo elíptico de tubo base y aletas exteriores. El tubo con aletas elípticas se utiliza como elemento de intercambio de calor de alta eficiencia en equipos de intercambio de calor. Los más comunes incluyen tubos con aletas rectangulares elípticas, tubos con aletas elípticas elípticas, tubos con aletas circulares elípticas, tubos planos elípticos en espiral, tubos con aletas elípticas en forma de H, etc. Los tubos con aletas ovales están recibiendo atención debido a su rendimiento superior a los tubos con aletas redondas. En la actualidad, los tubos con aletas ovales se han utilizado ampliamente en campos industriales como el etileno y la refinación de petróleo.
La resistencia externa del tubo es pequeña y la eficiencia del intercambio de calor es alta, por lo que el equipo de intercambio de calor tiende a ser compacto, liviano, eficiente y miniaturizado. Aunque la investigación sobre ellos ha logrado muchos resultados, todavía queda mucha investigación por hacer.
(1) Los tubos con aletas elípticas tienen muchas ventajas, que son relativamente escasas en comparación con la investigación.
(2) La eficiencia de las aletas juega un papel clave en los cálculos de transferencia de calor. Existen muchos métodos para calcular la eficiencia de las aletas de los tubos de aletas elípticas, pero se basan básicamente en el método equivalente. Hay algunas desviaciones en el método equivalente. Estas desviaciones deben corregirse cuando se utilizan para guiar el proyecto real. Por lo tanto, para obtener resultados más precisos y más convenientes para guiar el proyecto, es necesario realizar una investigación más sistemática en el futuro.
(3) La investigación sobre las características internas y externas y las leyes de transferencia de calor de los tubos con aletas elípticas ha sido muy exhaustiva. Los académicos en el país y en el extranjero han realizado muchos análisis teóricos, investigaciones experimentales y simulación numérica. Sin embargo, hay relativamente pocos estudios sobre tubos con aletas de tubo plano, especialmente en el interior y el exterior de los campos con aletas de tubo plano, temperatura y velocidad. Aunque la resistencia del tubo de aleta de tubo plano en el lado del aire es relativamente pequeña y el coeficiente de transferencia de calor es alto, la resistencia interna del fluido es grande y la carga de refrigerante es relativamente pequeña, lo que limita la aplicación del tubo de aleta de tubo plano en el intercambiador de calor. Por lo tanto, cómo resolver el problema de la gran resistencia al flujo interno de los tubos planos requiere una investigación cada vez más profunda.
Das elliptische Rippenrohr besteht aus einem elliptischen Basisrohr und Außenrippen. Das elliptische Rippenrohr wird als hocheffizientes Wärmeaustauschelement in Wärmeaustauschgeräten verwendet. Übliche sind elliptische rechteckige Rippenrohre, elliptische elliptische Rippenrohre, elliptische kreisförmige Rippenrohre, spiralförmige elliptische flache Rohre, elliptische H-förmige Rippenrohre usw. Ovale Rippenrohre erhalten Aufmerksamkeit aufgrund ihrer überlegenen Leistung gegenüber runden Rippenrohren. Gegenwärtig sind ovale Rippenrohre in industriellen Bereichen wie der Ethylen- und Ölraffinierung weit verbreitet.
Der äußere Widerstand des Rohrs ist gering und der Wärmeaustauschwirkungsgrad hoch, so dass die Wärmeaustauschausrüstung tendenziell kompakt, leicht, effizient und miniaturisiert ist. Obwohl die Forschung an ihnen viele Ergebnisse erzielt hat, gibt es noch viel zu erforschen.
(1) Elliptische Rippenrohre haben viele Vorteile, aber die Forschung ist rar.
(2) Die Lamelleneffizienz spielt eine Schlüsselrolle bei der Wärmeübertragungsberechnung. Es gibt viele Methoden zur Berechnung der Lamelleneffizienz von elliptischen Lamellenrohren, die jedoch im Wesentlichen auf der äquivalenten Methode basieren. Es gibt einige Abweichungen bei der äquivalenten Methode. Diese Abweichungen sollten korrigiert werden, wenn sie für die Führung des tatsächlichen Projekts verwendet werden. Um genauere Ergebnisse zu erhalten und das Projekt bequemer zu leiten, ist es daher erforderlich, in Zukunft systematischere Forschungen durchzuführen.
(3) Die Untersuchungen zu den internen und externen Eigenschaften und Wärmeübertragungsgesetzen von elliptischen Rippenrohren waren sehr umfassend. Wissenschaftler im In- und Ausland haben viele theoretische Analysen, experimentelle Untersuchungen und numerische Simulationen durchgeführt. Es gibt jedoch relativ wenige Studien zu Flachrohrrippenrohren, insbesondere an der Innen- und Außenseite von Flachrohrrippenrohren, Temperatur- und Geschwindigkeitsfeldern. Obwohl der Widerstand des Flachrohrrippenrohrs auf der Luftseite relativ klein und der Wärmeübertragungskoeffizient hoch ist, ist der innere Fluidwiderstand relativ groß und die Kältemittelfüllung relativ gering, was die Anwendung des Flachrohrrippenrohrs im Wärmetauscher begrenzt. Um das Problem des großen inneren Strömungswiderstands von Flachrohren zu lösen, sind daher immer eingehendere Untersuchungen erforderlich.
Links to Lord Fin Tube: