Lord Fin Tube-Studded Tube / Nailhead Tube
Studded Tube / Nailhead tube adopts a square or hexagonal arrangement and equally divides the cylindrical needle welded on the surface of the heat exchange tube. The four-square or hexagonal enhanced heat exchange nail head tube is assembled and welded to form a high-efficiency energy-saving needle-shaped tube heat exchange tube set. Since the nail head needle rib is a cantilever structure, the structure is compact, and the needle rib is generated under the impact of the air flow. The vibration makes the soot difficult to accumulate; coupled with the strong turbulent scouring of the flue gas, the heat transfer efficiency of the nail head heat exchange element is high, and has a strong self-cleaning ability.
Studded Tube / Nailhead tube is especially suitable for the compact heat recovery boiler, fuel oil, gas boiler and oil heater. Under the same heat exchange quantity, the weight and outer shape have a large drop. The anti-ashing performance of the nail head tube group is greatly improved compared with other conventional enhanced heat transfer boiler tubes. In the case of very low smoke temperature, the nail head pipe can still recover waste heat economically, and has broad application prospects in heat exchange and energy saving projects.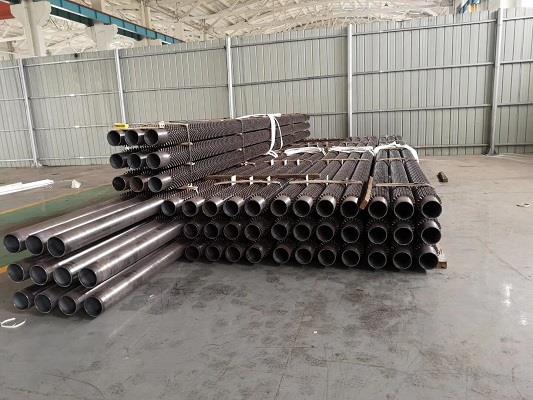 El tubo con clavos / tubo de clavos adopta una disposición cuadrada o hexagonal y divide igualmente la aguja cilíndrica soldada en la superficie del tubo de intercambio de calor. El tubo de cabeza de clavo de intercambio de calor mejorado de cuatro cuadrados o hexagonales se ensambla y se suelda para formar un conjunto de tubos de intercambio de calor de tubo de forma de aguja de ahorro de energía de alta eficiencia. Dado que la costilla de la aguja de la cabeza del clavo es una estructura en voladizo, la estructura es compacta y la costilla de la aguja se genera bajo el impacto del flujo de aire. La vibración hace que el hollín sea difícil de acumular; Junto con el fuerte lavado turbulento del gas de combustión, la eficiencia de transferencia de calor del elemento de intercambio de calor de la cabeza del clavo es alta y tiene una fuerte capacidad de autolimpieza.
El tubo con clavos / tubo de clavos es especialmente adecuado para la caldera compacta de recuperación de calor, fuel oil, caldera de gas y calentador de aceite. Bajo la misma cantidad de intercambio de calor, el peso y la forma exterior tienen una gran caída. El rendimiento anti-cenizas del grupo de tubos de cabeza de clavo mejora considerablemente en comparación con otros tubos de caldera de transferencia de calor mejorados convencionales. En el caso de una temperatura de humo muy baja, el tubo con cabeza de clavo aún puede recuperar el calor residual económicamente y tiene amplias posibilidades de aplicación en proyectos de intercambio de calor y ahorro de energía.
Das Nietenrohr / Nagelkopfrohr nimmt eine quadratische oder sechseckige Anordnung an und teilt die an der Oberfläche des Wärmeaustauschrohrs angeschweißte zylindrische Nadel gleichmäßig auf. Das vierquadratische oder sechseckige Nagelkopfrohr mit verstärktem Wärmeaustausch wird zusammengebaut und geschweißt, um einen hocheffizienten, energiesparenden, nadelförmigen Wärmeaustauschrohrsatz für Nadeln zu bilden. Da die Nagelkopfnadelrippe eine freitragende Struktur ist, ist die Struktur kompakt und die Nadelrippe wird unter dem Einfluss des Luftstroms erzeugt. Die Vibration macht es schwierig, den Ruß anzusammeln; In Verbindung mit der starken turbulenten Reinigung des Rauchgases ist die Wärmeübertragungseffizienz des Nagelkopf-Wärmeaustauschelements hoch und weist eine starke Selbstreinigungsfähigkeit auf.
Das Nietenrohr / Nagelkopfrohr ist besonders für den kompakten Wärmerückgewinnungskessel, Heizöl, Gaskessel und Ölheizung geeignet. Bei gleicher Wärmeaustauschmenge fallen Gewicht und Außenform stark ab. Die Anti-Asch-Leistung der Nagelkopfrohrgruppe ist im Vergleich zu anderen herkömmlichen Kesselrohren mit verbesserter Wärmeübertragung stark verbessert. Bei sehr niedrigen Rauchtemperaturen kann das Nagelkopfrohr immer noch wirtschaftlich Abwärme zurückgewinnen und hat breite Anwendungsaussichten bei Wärmeaustausch- und Energiesparprojekten.