T-shaped fin tube is a kind of high-efficiency heat exchange tube formed by rolling processing of smooth tube. Its structural feature is that a series of spiral ring T-shaped tunnels are formed on the outer surface of the tube. When the medium outside the tube is heated, a series of bubble cores are formed in the tunnel. Due to the surrounding heating state in the tunnel cavity, the bubble core rapidly expands and fills the inner cavity. Continued heating causes the pressure in the bubble to increase rapidly, prompting the bubble from the tube surface Rapidly squirted. The bubbles are sprayed with a large scouring force, and a certain local negative pressure is generated, causing the surrounding lower temperature liquid to flow into the T-shaped tunnel, forming a continuous boiling. This boiling method takes far more heat per unit surface area per unit time than the smooth tube, so this tube type has a higher boiling heat transfer capacity. The research progress, working principle, characteristics, heat transfer mechanism and application of T-shaped finned tubes are introduced in detail.
⑴The heat transfer effect is good. In R113 working medium, the boiling heat transfer coefficient of T tube is 1.6-3.3 times higher than that of smooth tube.
⑵ Conventional smooth tube heat exchangers, only when the temperature of the heating medium is higher than the boiling point or bubble point of the cold medium of 12 ℃ -15 ℃, the cold medium will bubble and boil. T-shaped finned tube heat exchanger only needs a temperature difference of 2 ℃ -4 ℃, the cold medium can be boiled, and the bubbling is fine, continuous and fast, which forms a unique advantage compared with the smooth tube.
⑶The single tube experiment with Freon 11 as the medium shows that the T-tube boiling heat transfer coefficient can reach 10 times that of the smooth tube; the experimental results of the small tube bundle using liquid ammonia as the medium, the total heat transfer coefficient is 2.2 times that of the smooth tube; C3 The industrial calibration of the reboiler of the C4 hydrocarbon separation tower shows that the total heat transfer coefficient of the T-shaped tube is 50% higher than that of the smooth tube at low load, and 99% higher at high load.
⑷ Cheaper than aluminum porous surface heat transfer tube.
⑸ Because the gas-liquid disturbance inside the tunnel is very intense and the gas is ejected along the T-slot at high speed, it is not easy to scale either inside the T-slot or the outer surface of the pipe. This ensures that the equipment can be used for a long time and the heat transfer effect will not be affected by scaling.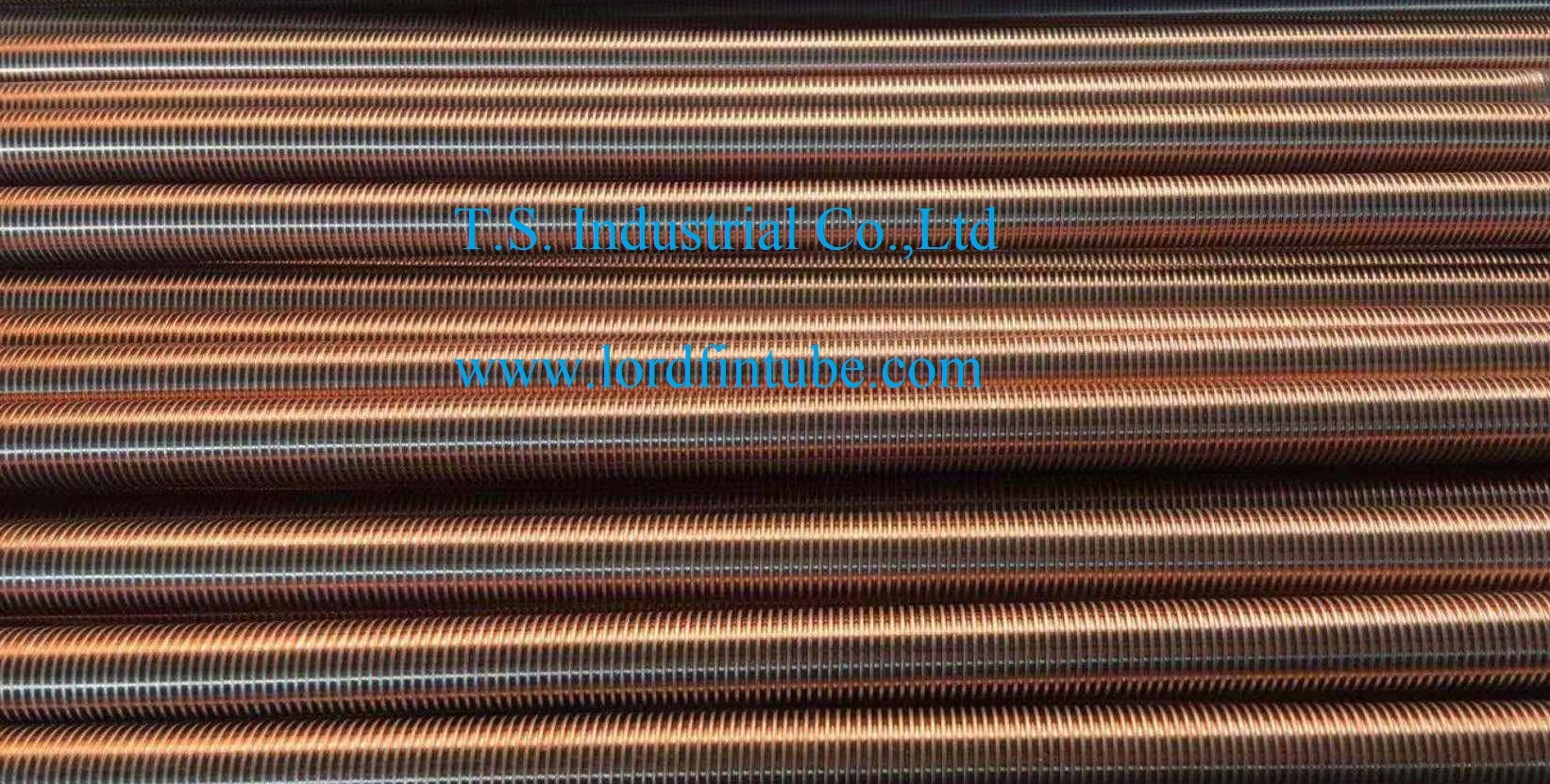 El tubo de aleta en forma de T es un tipo de tubo de intercambio de calor de alta eficiencia formado por el proceso de laminación del tubo liso. Su característica estructural es que se forman una serie de túneles en forma de T en forma de anillo espiral en la superficie exterior del tubo. Cuando el medio fuera del tubo se calienta, se forman una serie de núcleos de burbujas en el túnel. Debido al estado de calentamiento circundante en la cavidad del túnel, el núcleo de la burbuja se expande rápidamente y llena la cavidad interna. El calentamiento continuo hace que la presión en la burbuja aumente rápidamente, provocando que la burbuja salga de la superficie del tubo Rápidamente chorros. Las burbujas se rocían con una gran fuerza de fregado, y se genera una cierta presión negativa local, lo que hace que el líquido de menor temperatura circundante fluya hacia el túnel en forma de T, formando una ebullición continua. Este método de ebullición requiere mucho más calor por unidad de superficie por unidad de tiempo que el tubo liso, por lo que este tipo de tubo tiene una mayor capacidad de transferencia de calor de ebullición. El progreso de la investigación, el principio de funcionamiento, las características, el mecanismo de transferencia de calor y la aplicación de tubos con aletas en forma de T se presentan en detalle.
Características del tubo con aletas en forma de T
EffectEl efecto de transferencia de calor es bueno. En el medio de trabajo R113, el coeficiente de transferencia de calor de ebullición del tubo T es 1.6-3.3 veces mayor que el del tubo liso.
Exchange Intercambiadores de calor de tubo liso convencionales, solo cuando la temperatura del medio de calentamiento es mayor que el punto de ebullición o el punto de burbuja del medio frío de 12 ℃ -15 ℃, el medio frío burbujeará y hervirá. El intercambiador de calor de tubo con aletas en forma de T solo necesita una diferencia de temperatura de 2 ℃ -4 ℃, el medio frío se puede hervir y el burbujeo es fino, continuo y rápido, lo que forma una ventaja única en comparación con el tubo liso.
ExperimentEl experimento de tubo único con Freón 11 como medio muestra que el coeficiente de transferencia de calor de ebullición del tubo en T puede alcanzar 10 veces el del tubo liso; los resultados experimentales del haz de tubos pequeños usando amoníaco líquido como medio, el coeficiente de transferencia de calor total es 2.2 veces el del tubo liso; C3 La calibración industrial del calderín de la torre de separación de hidrocarburos C4 muestra que el coeficiente de transferencia de calor total del tubo en forma de T es 50% más alto que el del tubo liso a baja carga, y 99% más alto a alta carga.
⑷ Más barato que el tubo de transferencia de calor de superficie porosa de aluminio.
⑸ Debido a que la perturbación gas-líquido dentro del túnel es muy intensa y el gas se expulsa a lo largo de la ranura en T a alta velocidad, no es fácil escalar ni dentro de la ranura en T ni en la superficie exterior de la tubería. Esto garantiza que el equipo se pueda usar durante mucho tiempo y que el efecto de transferencia de calor no se vea afectado por la incrustación.
T-förmiges Rippenrohr ist eine Art hocheffizientes Wärmeaustauschrohr, das durch Walzverarbeitung eines glatten Rohrs gebildet wird. Sein strukturelles Merkmal besteht darin, dass eine Reihe von T-förmigen Spiralringtunneln an der Außenfläche des Rohrs gebildet werden. Wenn das Medium außerhalb des Rohrs erwärmt wird, bildet sich im Tunnel eine Reihe von Blasenkernen. Aufgrund des umgebenden Erwärmungszustands im Tunnelhohlraum dehnt sich der Blasenkern schnell aus und füllt den inneren Hohlraum. Durch kontinuierliches Erhitzen steigt der Druck in der Blase schnell an, wodurch die Blase von der Rohroberfläche abfällt Schnell gespritzt. Die Blasen werden mit einer großen Scheuerkraft besprüht, und ein bestimmter lokaler Unterdruck wird erzeugt, wodurch die umgebende Flüssigkeit mit niedrigerer Temperatur in den T-förmigen Tunnel fließt und ein kontinuierliches Kochen bildet. Diese Siedemethode benötigt weitaus mehr Wärme pro Flächeneinheit und Zeiteinheit als das glatte Rohr, so dass dieser Rohrtyp eine höhere Siedewärmeübertragungskapazität aufweist. Der Forschungsfortschritt, das Arbeitsprinzip, die Eigenschaften, der Wärmeübertragungsmechanismus und die Anwendung von T-förmigen Rippenrohren werden detailliert vorgestellt.
Eigenschaften des T-förmigen Rippenrohrs
⑴Der Wärmeübertragungseffekt ist gut. In R113-Arbeitsmedium ist der Siedewärmeübertragungskoeffizient des T-Rohrs 1,6-3,3-mal höher als der des glatten Rohrs.
⑵ Herkömmliche Glattrohrwärmetauscher sprudeln und kochen nur dann, wenn die Temperatur des Heizmediums höher als der Siedepunkt oder der Blasenpunkt des kalten Mediums von 12 ℃ -15 ℃ ist. T-förmige Rippenrohrwärmetauscher benötigen nur einen Temperaturunterschied von 2 ℃ -4 ℃, das kalte Medium kann gekocht werden und das Sprudeln ist fein, kontinuierlich und schnell, was einen einzigartigen Vorteil gegenüber dem glatten Rohr darstellt.
⑶Das Einzelrohrversuch mit Freon 11 als Medium zeigt, dass der Wärmeübergangskoeffizient des T-Rohrs beim Kochen das 10-fache des glatten Rohrs erreichen kann. Die experimentellen Ergebnisse des kleinen Rohrbündels mit flüssigem Ammoniak als Medium zeigen, dass der gesamte Wärmeübergangskoeffizient das 2,2-fache des des glatten Rohrs beträgt. C3 Die industrielle Kalibrierung des Aufkochers des C4-Kohlenwasserstoff-Trennturms zeigt, dass der Gesamtwärmeübergangskoeffizient des T-förmigen Rohrs 50% höher ist als der des glatten Rohrs bei niedriger Last und 99% höher bei hoher Last.
⑷ Billiger als ein Wärmeübertragungsrohr mit poröser Aluminiumoberfläche.
⑸Weil die Gas-Flüssigkeits-Störung im Tunnel sehr stark ist und das Gas mit hoher Geschwindigkeit entlang des T-Schlitzes ausgestoßen wird, unabhängig davon, ob es sich im T-Schlitz oder an der Außenfläche des Rohrs befindet, ist es nicht einfach zu skalieren. Dies stellt sicher, dass das Gerät lange verwendet werden kann und der Wärmeübertragungseffekt nicht durch Skalierung beeinträchtigt wird.