Lord Fin Tube-Characteristics and application of tube sheet
Characteristics and application of tube sheet
Tube sheet processing is mainly used in chemical containers. It plays a role of supporting fixed tubes and has great thermal conductivity. It is widely used in tube heat exchangers, boilers, pressure vessels, steam turbines, large central air-conditioning and other industries. In the inspection process of the tube sheet, the main inspection indicators are the hole position, the hole diameter tolerance, and the smoothness in the hole.
When the tube plate is drilling and expanding, it can directly observe the cutting situation of the tool. It can only be judged by listening to the sound of cutting, seeing chips, hand vibration and workpiece temperature, viewing instruments (oil pressure gauge and electric meter) based on work experience Whether the cutting process is normal.
The tube plate has a small diameter and a large length, resulting in poor rigidity and low strength. It is easy to produce vibration, ripple and taper during cutting, which affects the straightness and surface roughness of the deep hole.
The tube plate cutter has poor heat dissipation conditions, and the cutting temperature increases, which reduces the durability of the cutter.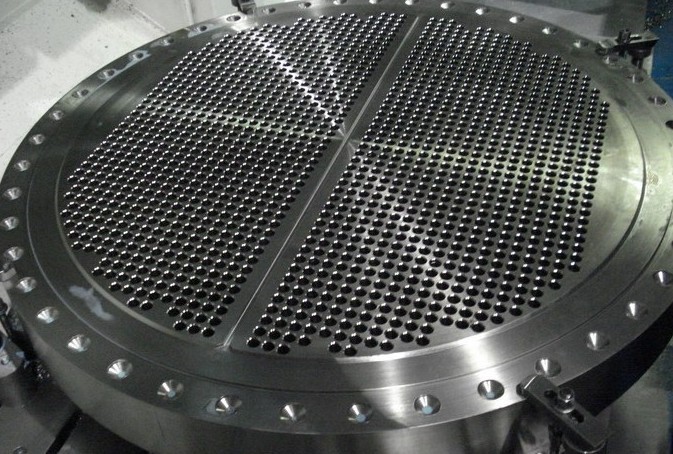 Características y usos de la placa tubular.
El procesamiento de láminas de tubos se usa principalmente en contenedores químicos. Desempeña un papel de soporte de tubos fijos y tiene una gran conductividad térmica. Se usa ampliamente en intercambiadores de calor de tubos, calderas, recipientes a presión, turbinas de vapor, grandes centrales de aire acondicionado y otras industrias. En el proceso de inspección de la lámina del tubo, los principales indicadores de inspección son la posición del agujero, la tolerancia del diámetro del agujero y la suavidad del agujero.
Cuando la placa del tubo se perfora y se expande, puede observar directamente la situación de corte de la herramienta. Solo se puede juzgar escuchando el sonido del corte, viendo las virutas, la vibración de la mano y la temperatura de la pieza de trabajo, viendo instrumentos (medidor de presión de aceite y medidor eléctrico) según la experiencia laboral Si el proceso de corte es normal.
La placa del tubo tiene un diámetro pequeño y una longitud grande, lo que resulta en una rigidez deficiente y baja resistencia. Es fácil producir vibraciones, ondulaciones y conos durante el corte, lo que afecta la rectitud y la rugosidad de la superficie del agujero profundo.
El cortador de placas tubulares tiene malas condiciones de disipación de calor, y la temperatura de corte aumenta, lo que reduce la durabilidad del cortador.
Eigenschaften und Verwendung des Rohrbodens
Die Rohrbearbeitung wird hauptsächlich in Chemikalienbehältern verwendet. Sie spielt eine Rolle bei der Unterstützung fester Rohre und weist eine hohe Wärmeleitfähigkeit auf. Sie wird häufig in Rohrwärmetauschern, Kesseln, Druckbehältern, Dampfturbinen, großen zentralen Klimaanlagen und anderen Industriezweigen eingesetzt. Bei der Inspektion des Rohrbodens sind die Hauptinspektionsindikatoren die Lochposition, die Lochdurchmessertoleranz und die Glätte im Loch.
Wenn die Rohrplatte bohrt und sich ausdehnt, kann sie die Schnittsituation des Werkzeugs direkt beobachten. Sie kann nur beurteilt werden, indem das Geräusch des Schneidens, das Erkennen von Spänen, Handvibrationen und die Werkstücktemperatur sowie das Betrachten von Instrumenten (Öldruckmesser und Elektrizitätsmesser) anhand der Arbeitserfahrung beurteilt werden Ob der Schneidvorgang normal ist.
Die Rohrplatte hat einen kleinen Durchmesser und eine große Länge, was zu einer schlechten Steifigkeit und geringen Festigkeit führt. Während des Schneidens können leicht Vibrationen, Welligkeiten und Verjüngungen erzeugt werden, die die Geradheit und Oberflächenrauheit des tiefen Lochs beeinträchtigen.
Der Rohrplattenschneider hat schlechte Wärmeableitungsbedingungen und die Schnitttemperatur steigt an, was die Haltbarkeit des Schneiders verringert.
Links to Lord Fin Tube: