Finned tube coil
Finned tube coil manufacturer for general industry, food & beverage, HVAC, Marine, Air Processing & Cooling, Petrochemical, Asphalt, Pharmaceutical, Power Generation and Refrigeration Markets. When selecting tube coils for an application, it is very important to take into consideration all the requirements to assure the maximum life and performance. Our custom tube coil products include Finned Tube Coils, Refrigeration Chiller and Condenser Coils, Air Drying & Gas Heating System Coils.
Finned Tube Coil Heat Exchangers
We can supply Finned Tube Coils for new installations or as made to measure replacements for existing damaged coils. we can achieve the right design, materials and construction for most applications.
Type of Finned Tube Coils
Finned Tube Coils
Serpentine Tube Coils
Hot Water Booster Coils
Water Cooling Coils
Helical Coils
Condenser Coils
Cooling Evaporator Coils
Flat Spiral Coils
Hot Water Storage Coils
Custom Steam Tubing Coils
Steam Tubing Distribution Coils
U Shaped Tube Coil
Our extensive range of Finned Tube Coils are designed for HVAC, and Industrial Process applications.
Finned Tube Coils fully welded, stainless steel finned tube coils. Suitable for the food processing industry and/or steam applications.
What do finned Tube Coils do?
Finned tube coils transfer heat energy from a steam or liquid (inside the tubes) into air (across the fins) or vice versa.
We produce finned tube coils from one off small applications to much larger commercial and industrial projects. The list of applications are endless!
Finned Tube Coils Typical Applications:
HVAC / Air Handling Units
Heat Pumps
Boiler Economisers
Process Drying
Agricultural Drying
Space heating
De-humidification
Process cooling
Heat recovery
Air cooling in food manufacture
Air heating using steam / thermal oil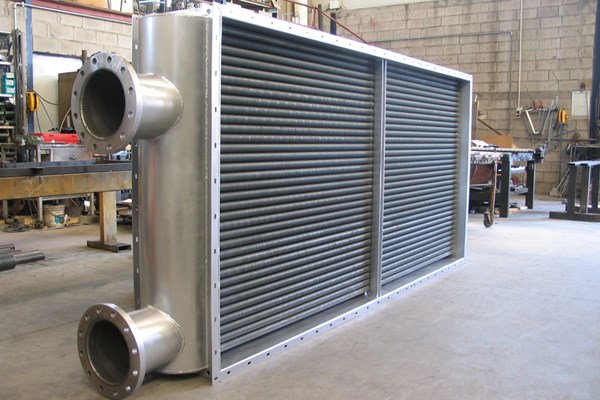 Finned Tube Coils Materials:
We have various material options: Tubes in copper, steel or stainless steel; Fins in aluminium, copper, steel or stainless steel,
Frames in galvanised steel, stainless steel, aluzinc or copper
Connections in brass, steel or stainless steel
We also supply various coatings to protect against corrosive environments
Finned Tube Coils Types:
Finned block - tubes expanded into rectangular fins
Spiral wound - crimped fin wound along tube length
Water to air
Steam to air
Refrigerant to air
Oil to air
Run-around coils (air to air heat recovery)
Connections:
BSP threaded
PN16 flanged
ANSI flanged
Plain tube
Replacement Finned Tube Coils:
On receipt of your damaged coil or drawing, we can produce a replica coil to fit into your existing duct work and match up to your existing pipe-work connections when possible.
We also offer an on-site coil measuring service to measure up the existing coil. Many clients have saved both time and money by avoiding unnecessary modifications to their existing installations.