Lord Fin Tube-Stainless steel tube plate flange
The stainless steel tube plate flange is a kind of fitting that drills a slightly larger hole in the stainless steel round steel plate than the outer diameter of the tube, penetrates the tube and welds it to fix it. In the calculation of the fixed tube sheet, the axial stress of the shell, the axial stress of the heat exchange tube, and the pull-off force q between the heat exchange tube and the tube sheet are calculated according to various working conditions with temperature difference, and one of them cannot be satisfied For strength (or stable) conditions, expansion joints are required. In the calculation of the strength check of the fixed tube sheet, when the thickness of the tube sheet is determined and the expansion joint is not provided, sometimes the strength of the tube sheet is insufficient. After the expansion joint is provided, the thickness of the tube sheet may meet the requirements. At this time, an expansion joint can also be provided to reduce the thickness of the tube sheet, but it should be determined from a comprehensive evaluation of material consumption, ease of manufacturing, safety and economic effects.
U-shaped expansion joints are commonly used in fixed tube sheet heat exchangers, which have the advantages of compact and simple structure, good compensation, and low price.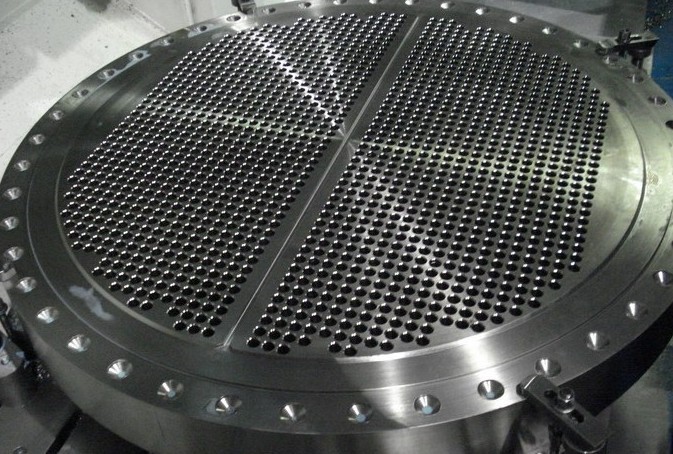 The accuracy of the tube sheet processing, especially the tube hole spacing and tube diameter tolerance, verticality, and smoothness greatly affect the assembly and use performance of the chemical equipment listed above. With the enlargement of chemical equipment and power stations, the diameter of the tube sheet has become larger and larger. Tube sheets with a diameter of 4m-5m are very common. The characteristics of large tube sheets are the large number of tube holes, the density, the small hole diameter, the depth, the precision and the finish requirements.
use:
Tube sheets are widely used in such industries as tube heat exchangers, boilers, pressure vessels, steam turbines, and large central air conditioners.
It is mainly used in chemical containers, such as tube heat exchangers, pressure vessels, boilers, condensers, central air conditioners, evaporators, and seawater desalination. It plays a role in supporting fixed tubes. The metal material makes it not only very strong Rigid, and has great thermal conductivity.
Criteria for judging the merits of tube sheets
In the inspection process of the tube sheet, the main inspection indicators are the hole position, the aperture tolerance, the smoothness of the hole, the presence or absence of burrs, the slotting position, etc. For the double tube sheet, more attention is paid to the position of the hole The degree of hole fit is very important. Generally it can be guaranteed by CNC drilling machine. Compared with thick plates, the holes above 300mm, the verticality of the holes is very important. These large-diameter thick plates require more sophisticated tools and equipment. The application of special gantry machining centers will become more and more common.
Advanced tube sheet processing methods
In fact, a major problem that restricts tube sheet processing is equipment. In the traditional tube sheet processing, the radial drill is its main equipment. Due to its manual operation characteristics, the operation method is relatively fixed, and it is difficult to tap the potential. Although methods such as drilling dies can be used to improve efficiency, the fundamental problem cannot be solved. Only by finding a way from the device can we solve the problem fundamentally. The multi-axis CNC drilling machine has been widely used in tube hole processing abroad, and the radial drilling is no longer used. The CNC plane drilling machine can replace manual scribing and drilling, which can greatly improve the machining accuracy and efficiency. In recent years, China has also begun to localize this type of drilling machine, but the products of most manufacturers have small beds (2m ~ 3m) and few spindles (one or two). Cannot process large tube sheets. It cannot completely replace imported products. Therefore, large tube sheets (more than 7m) that require high processing accuracy can only be processed abroad. The imported CNC machine tools are expensive, have a long installation cycle, are not easy to maintain, and are not necessarily suitable for Chinas national conditions. There is an urgent need for domestic machine tool manufacturers to produce ultra-large CNC drilling machines to meet the needs of tube sheet processing manufacturers.
La brida de la placa del tubo de acero inoxidable es un tipo de accesorio que perfora un orificio ligeramente más grande en la placa de acero redonda de acero inoxidable que el diámetro exterior del tubo, penetra el tubo y lo suelda para fijarlo. En el cálculo de la lámina de tubo fija, la tensión axial de la carcasa, la tensión axial del tubo de intercambio de calor y la fuerza de extracción q entre el tubo de intercambio de calor y la lámina de tubo se calculan de acuerdo con diversas condiciones de trabajo con diferencia de temperatura, y una de ellas no puede satisfacerse Para condiciones de resistencia (o estabilidad), se requieren juntas de expansión. En el cálculo de la comprobación de resistencia de la lámina de tubo fija, cuando se determina el grosor de la lámina de tubo y no se proporciona la junta de expansión, a veces la resistencia de la lámina de tubo es insuficiente. Después de que se proporciona la junta de expansión, el grosor de la lámina de tubo puede cumplir los requisitos. En este momento, también se puede proporcionar una junta de expansión para reducir el grosor de la lámina del tubo, pero debe determinarse a partir de una evaluación exhaustiva del consumo de material, la facilidad de fabricación, la seguridad y los efectos económicos.
Las juntas de expansión en forma de U se usan comúnmente en intercambiadores de calor de lámina de tubo fijo, que tienen las ventajas de una estructura compacta y simple, buena compensación y bajo precio.
La precisión del procesamiento de la lámina del tubo, especialmente la separación del orificio del tubo y la tolerancia, verticalidad y suavidad del diámetro del tubo afectan en gran medida el rendimiento del ensamblaje y el uso del equipo químico mencionado anteriormente. Con la ampliación de los equipos químicos y las centrales eléctricas, el diámetro de la lámina del tubo se ha vuelto cada vez más grande. Las láminas de tubo con un diámetro de 4m-5m son muy comunes. Las características de las láminas de tubos grandes son la gran cantidad de agujeros para tubos, la densidad, el diámetro del agujero pequeño, la profundidad, la precisión y los requisitos de acabado.
Usos:
Las láminas tubulares se usan ampliamente en industrias tales como intercambiadores de calor tubulares, calderas, recipientes a presión, turbinas de vapor y grandes aires acondicionados centrales.
Se utiliza principalmente en contenedores químicos, como intercambiadores de calor de tubos, recipientes a presión, calderas, condensadores, aires acondicionados centrales, evaporadores y desalinización de agua de mar. Desempeña un papel en el soporte de tubos fijos. El material metálico hace que no solo tenga Rígido, y tiene una gran conductividad térmica.
Criterios para juzgar los méritos de las placas tubulares
En el proceso de inspección de la lámina del tubo, los principales indicadores de inspección son la posición del orificio, la tolerancia de la abertura, la suavidad del orificio, la presencia o ausencia de rebabas, la posición de la ranura, etc. El grado de ajuste del agujero es muy importante. En general, puede garantizarse con una máquina de perforación CNC. En comparación con las placas gruesas, los agujeros superiores a 300 mm, la verticalidad de los agujeros es muy importante. Estas placas gruesas de gran diámetro requieren herramientas y equipos más sofisticados. La aplicación de centros especiales de mecanizado de pórtico será cada vez más común.
Método avanzado de procesamiento de chapa tubular
De hecho, un problema importante que restringe el procesamiento de la lámina de tubo es el equipo. En el procesamiento tradicional de láminas tubulares, el taladro radial es su equipo principal. Debido a sus características de operación manual, el método de operación es relativamente fijo y es difícil aprovechar el potencial. Aunque los métodos como los troqueles de perforación se pueden utilizar para mejorar la eficiencia, el problema fundamental no se puede resolver. Solo al encontrar un camino desde el dispositivo podemos resolver el problema fundamentalmente. La máquina de perforación CNC multieje se ha utilizado ampliamente en el procesamiento de agujeros de tubos en el extranjero, y la perforación radial ya no se utiliza. La máquina de perforación plana CNC puede reemplazar el trazado manual y la perforación, lo que puede mejorar en gran medida la precisión y eficiencia del mecanizado. En los últimos años, China también ha comenzado a localizar este tipo de máquina de perforación, pero los productos de la mayoría de los fabricantes tienen camas pequeñas (2m ~ 3m) y pocos husillos (uno o dos). No se pueden procesar láminas tubulares grandes. No puede reemplazar completamente los productos importados. Por lo tanto, las láminas tubulares grandes (más de 7 m) que requieren una alta precisión de procesamiento solo se pueden procesar en el extranjero. Las máquinas herramienta CNC importadas son caras, tienen un ciclo de instalación largo, no son fáciles de mantener y no son necesariamente adecuadas para las condiciones nacionales de China. Existe una necesidad urgente de que los fabricantes nacionales de máquinas herramienta produzcan máquinas de perforación CNC ultra grandes para satisfacer las necesidades de los fabricantes de procesamiento de láminas de tubos.
Der Flansch der Edelstahlrohrplatte ist eine Art Anschlussstück, das ein etwas größeres Loch in die Edelstahlrundstahlplatte bohrt als der Außendurchmesser des Rohrs, das Rohr durchdringt und es schweißt, um es zu befestigen. Bei der Berechnung des festen Rohrbodens werden die axiale Spannung des Mantels, die axiale Spannung des Wärmeaustauschrohrs und die Abzugskraft q zwischen dem Wärmeaustauschrohr und dem Rohrboden gemäß verschiedenen Arbeitsbedingungen mit Temperaturdifferenz berechnet, und eine davon kann nicht erfüllt werden Für feste (oder stabile) Bedingungen sind Dehnungsfugen erforderlich. Wenn bei der Berechnung der Festigkeitsprüfung des festen Rohrbodens die Dicke des Rohrbodens bestimmt wird und die Dehnungsfuge nicht vorgesehen ist, ist manchmal die Festigkeit des Rohrbodens unzureichend. Nach dem Bereitstellen der Dehnungsfuge kann die Dicke des Rohrbodens die Anforderungen erfüllen. Zu diesem Zeitpunkt kann auch eine Dehnungsfuge vorgesehen werden, um die Dicke des Rohrbodens zu verringern. Diese sollte jedoch anhand einer umfassenden Bewertung des Materialverbrauchs, der einfachen Herstellung, der Sicherheit und der wirtschaftlichen Auswirkungen ermittelt werden.
U-förmige Dehnungsfugen werden üblicherweise in Wärmetauschern mit festem Rohrboden verwendet, die die Vorteile einer kompakten und einfachen Struktur, einer guten Kompensation und eines niedrigen Preises aufweisen.
Die Genauigkeit der Rohrbodenverarbeitung, insbesondere der Rohrlochabstand und die Toleranz, Vertikalität und Glätte des Rohrdurchmessers, beeinflussen die Montage- und Verwendungsleistung der oben aufgeführten chemischen Geräte erheblich. Mit der Vergrößerung chemischer Geräte und Kraftwerke ist der Durchmesser des Rohrbodens immer größer geworden. Rohrböden mit einem Durchmesser von 4 bis 5 m sind sehr verbreitet. Die Eigenschaften großer Rohrböden sind die große Anzahl von Rohrlöchern, die Dichte, der kleine Lochdurchmesser, die Tiefe, die Präzision und die Oberflächenanforderungen.
Verwendet:
Rohrböden werden häufig in Branchen wie Rohrwärmetauschern, Kesseln, Druckbehältern, Dampfturbinen und großen zentralen Klimaanlagen eingesetzt.
Es wird hauptsächlich in chemischen Behältern wie Rohrwärmetauschern, Druckbehältern, Kesseln, Kondensatoren, zentralen Klimaanlagen, Verdampfern und Meerwasserentsalzung verwendet. Es spielt eine Rolle bei der Unterstützung fester Rohre. Das Metallmaterial macht es nicht nur sehr stark Starr und hat eine hohe Wärmeleitfähigkeit.
Kriterien für die Beurteilung der Vorzüge von Rohrböden
Bei der Inspektion des Rohrbodens sind die Hauptinspektionsindikatoren die Lochposition, die Öffnungstoleranz, die Glätte des Lochs, das Vorhandensein oder Fehlen von Graten, die Schlitzposition usw. Beim Doppelrohrboden wird der Position des Lochs mehr Aufmerksamkeit geschenkt Der Grad der Lochpassung ist sehr wichtig. Im Allgemeinen kann dies durch eine CNC-Bohrmaschine garantiert werden. Im Vergleich zu dicken Platten mit Löchern über 300 mm ist die Vertikalität der Löcher sehr wichtig. Diese dicken Platten mit großem Durchmesser erfordern anspruchsvollere Werkzeuge und Geräte. Die Anwendung spezieller Portalbearbeitungszentren wird immer häufiger.
Fortgeschrittene Rohrbearbeitungsmethoden
Tatsächlich ist ein Hauptproblem, das die Rohrbodenverarbeitung einschränkt, die Ausrüstung. Bei der traditionellen Rohrbearbeitung ist der Radialbohrer die Hauptausrüstung. Aufgrund seiner manuellen Betriebseigenschaften ist die Betriebsmethode relativ fest und es ist schwierig, das Potenzial auszuschöpfen. Obwohl Methoden wie Bohrwerkzeuge zur Verbesserung der Effizienz eingesetzt werden können, kann das grundlegende Problem nicht gelöst werden. Nur wenn wir einen Weg vom Gerät finden, können wir das Problem grundlegend lösen. Die mehrachsige CNC-Bohrmaschine ist in der Rohrlochbearbeitung im Ausland weit verbreitet, und das Radialbohren wird nicht mehr verwendet. Die CNC-Hobelbohrmaschine kann manuelles Ritzen und Bohren ersetzen, was die Bearbeitungsgenauigkeit und -effizienz erheblich verbessern kann. In den letzten Jahren hat China auch begonnen, diese Art von Bohrmaschine zu lokalisieren, aber die Produkte der meisten Hersteller haben kleine Betten (2 m ~ 3 m) und wenige Spindeln (eine oder zwei). Große Rohrböden können nicht verarbeitet werden. Importierte Produkte können nicht vollständig ersetzt werden. Daher können große Rohrböden (mehr als 7 m), die eine hohe Verarbeitungsgenauigkeit erfordern, nur im Ausland verarbeitet werden. Die importierten CNC-Werkzeugmaschinen sind teuer, haben einen langen Installationszyklus, sind nicht leicht zu warten und nicht unbedingt für die nationalen Bedingungen in China geeignet. Inländische Werkzeugmaschinenhersteller müssen dringend extrem große CNC-Bohrmaschinen herstellen, um den Anforderungen der Hersteller von Rohrböden gerecht zu werden.
Links to Lord Fin Tube: