Lord Fin Tube-H-type finned tube economizer
H-type fin tube type waste heat recovery device (also known as economizer); H-type fin tube type economizer technology uses H-type fin tube (also known as H-type; the basic form is "H" type and double " H "type, in-line arrangement; 1) economizer replaces smooth tube economizer with H-type fin tube economizer; 3) H-type fin tube economizer adopts in-line arrangement, H-type fin Put the space; 4) H-shaped fins can get the best blowing because of the straight channels formed on both sides; 6) Energy saving and low power consumption: the economizer used for the generator set can be reduced at least; 7) Simple operation and maintenance;
H-shaped fin (fin, rib) tube type waste heat recovery device (also known as economizer)
H-type finned tube economizer technology is a high-efficiency heat-saving economizer assembled by using H-shaped finned tubes (also known as H-shaped finned tubes, finned tubes, and butterfly tube).
1. Structure form:
The basic form is "H" type and double "H" type, arranged in line.
2. Performance characteristics
(1) The economizer replaces the smooth tube economizer with an H-shaped tube economizer, which can increase the heat exchange area and reduce the number of tubes arranged, thereby increasing the cross section of the flue gas flow, reducing the smoke velocity and reducing wear. Since the wear rate of the tube is proportional to the 3.33 power of the flue gas velocity, if the flue gas velocity is reduced from 9m / s to 7m / s, the wear rate will be reduced to 43%. At the same time, the experiment shows that the finned tube itself has the effect of concentrating the fly ash toward the middle of the row of tubes, so the use of the finned tube economizer has the effect of reducing wear on the structure.
(2) The H-shaped finned tube can be made into a double-tube "double H" -shaped finned tube. The rigidity of the structure is good, and it can be applied to the occasions where the tube row is long.
(3) H-type finned tube economizers are arranged in series. H-type fins divide the space into several small areas, which have a uniform flow effect on the air flow and greatly reduce wear.
(4) Since the H-shaped fins form straight channels on both sides, a good soot blowing effect can be obtained.
(5) The space is compact, the overall weight is greatly reduced, and the cost is reduced.
(6) Energy saving and low power consumption: The economizer used in the generator set can reduce the heat loss of generator exhaust by at least two-thirds, and only consumes 2 to 4kW of electricity per ton of steam.
(7) Simple operation and maintenance; save labor: economizer is assembled and shipped from the factory, with few moving parts, simple structure, easy to install.
Dispositivo de recuperación de calor residual de tubo de aleta (aleta, nervadura) en forma de H (también conocido como economizador)
La tecnolo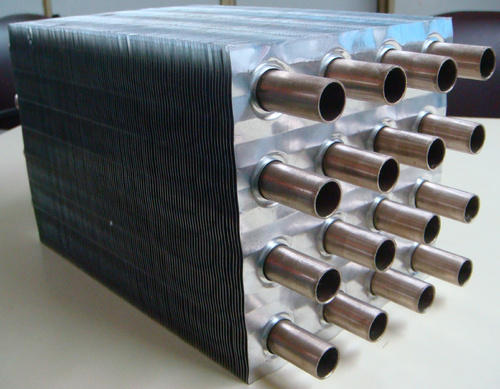 gía de economizador de tubo con aletas tipo H es un economizador de ahorro de calor de alta eficiencia ensamblado mediante el uso de tubos con aletas en forma de H (también conocidos como tubos con aletas en forma de H, tubos con aletas y tubos de mariposa).
1. Forma de estructura:
La forma básica es tipo "H" y tipo doble "H", dispuestas en línea.
2. Características de rendimiento
(1) El economizador reemplaza el economizador de tubo liso con un economizador de tubo en forma de H, que puede aumentar el área de intercambio de calor y reducir el número de tubos dispuestos, aumentando así la sección transversal del flujo de gases de combustión, reduciendo la velocidad del humo y el desgaste. Dado que la velocidad de desgaste del tubo es proporcional a la potencia de 3,33 de la velocidad de los gases de combustión, si la velocidad de los gases de combustión se reduce de 9 m / sa 7 m / s, la velocidad de desgaste se reducirá al 43%. Al mismo tiempo, el experimento muestra que el propio tubo con aletas tiene el efecto de concentrar las cenizas volantes hacia el centro de la fila de tubos, por lo que el uso del economizador de tubos con aletas tiene un papel estructural en la reducción del desgaste.
(2) El tubo con aletas en forma de H se puede convertir en un tubo con aletas en forma de "doble H" de doble tubo. La rigidez de la estructura es buena y se puede aplicar a las ocasiones en que la fila del tubo es larga.
(3) Los economizadores de tubo con aletas de tipo H están dispuestos en serie. Las aletas de tipo H dividen el espacio en varias áreas pequeñas, que tienen un efecto de flujo uniforme en el flujo de aire y reducen en gran medida el desgaste.
(4) Dado que las aletas en forma de H forman canales rectos en ambos lados, se puede obtener un buen efecto de soplado de hollín.
(5) El espacio es compacto, el peso total se reduce considerablemente y el costo se reduce.
(6) Ahorro de energía y bajo consumo de energía: el economizador utilizado en el grupo electrógeno puede reducir la pérdida de calor del escape del generador en al menos dos tercios, y solo consume de 2 a 4kW de electricidad por tonelada de vapor.
(7) Operación y mantenimiento simples; ahorre trabajo: el economizador se ensambla y se envía desde la fábrica, con pocas piezas móviles, estructura simple, fácil de instalar.
Abwärmerückgewinnungsgerät mit H-förmiger Rippe (Rippe, Rippe) (auch als Economizer bekannt)
Die H-Rippenrohr-Economizer-Technologie ist ein hocheffizienter, wärmesparender Economizer, der unter Verwendung von H-förmigen Rippenrohren (auch als H-förmige Rippenrohre, Rippenrohre und Schmetterlingsrohre bekannt) zusammengebaut wird.
1. Strukturform:
Die Grundform ist der Typ "H" und der doppelte Typ "H", die in einer Linie angeordnet sind.
2. Leistungsmerkmale
(1) Der Economizer ersetzt den Economizer für glatte Rohre durch einen H-förmigen Rohr-Economizer, der die Wärmeaustauschfläche vergrößern und die Anzahl der angeordneten Rohre verringern kann, wodurch der Querschnitt des Rauchgasstroms vergrößert, die Rauchgeschwindigkeit verringert und der Verschleiß verringert wird. Da die Verschleißrate des Rohrs proportional zur Leistung der Rauchgasgeschwindigkeit von 3,33 ist, wird die Verschleißrate auf 43% reduziert, wenn die Rauchgasgeschwindigkeit von 9 m / s auf 7 m / s verringert wird. Gleichzeitig zeigt das Experiment, dass das Rippenrohr selbst die Flugasche in Richtung der Mitte der Rohrreihe konzentriert, so dass die Verwendung des Rippenrohr-Economizers den Verschleiß der Struktur verringert.
(2) Das H-förmige Rippenrohr kann zu einem Doppelrohr "Doppel-H" -förmigen Rippenrohr verarbeitet werden. Die Steifigkeit der Struktur ist gut und kann in Fällen angewendet werden, in denen die Rohrreihe lang ist.
(3) Economizer für Rippenrohre vom H-Typ sind in Reihe angeordnet. Rippen vom H-Typ teilen den Raum in mehrere kleine Bereiche auf, die einen gleichmäßigen Strömungseffekt auf den Luftstrom haben und den Verschleiß stark verringern.
(4) Da die H-förmigen Rippen auf beiden Seiten gerade Kanäle bilden, kann ein guter Rußblaseffekt erzielt werden.
(5) Der Raum ist kompakt, das Gesamtgewicht wird stark reduziert und die Kosten werden reduziert.
(6) Energieeinsparung und geringer Stromverbrauch: Der im Generator verwendete Economizer kann den Wärmeverlust der Generatorabgase um mindestens zwei Drittel reduzieren und verbraucht nur 2 bis 4 kW Strom pro Tonne Dampf.
(7) Einfache Bedienung und Wartung, Arbeitsersparnis: Der Economizer wird ab Werk montiert und geliefert, mit wenigen beweglichen Teilen, einfacher Struktur und einfacher Installation.
Links to Lord Fin Tube: