Lord Fin Tube-Advantages of high frequency welding machine for welding finned tube
Advantages of high frequency welding machine for welding finned tube
High frequency welding machine welding uses the skin effect and proximity effect unique to high frequency current, so that the welding current is concentrated on the surface layer of the contact, the temperature of the surface joint surface rises quickly, and the surface to be welded is heated to a molten or near molten plastic state , And then quickly extruded into a joint welding method.
This welding method has a series of advantages: the heat-affected zone of the weld is small, and the heating speed is fast, which can greatly improve the welding speed and weld quality of the frequency welding machine, and can use strip steel without pickling, shot peening and trimming as a blank At the same time, it can weld alloy steel, high alloy steel and non-ferrous metal pipes, greatly reducing the unit power consumption. A set of welding equipment can be used to produce various metal welded pipes. For different metals, it is only necessary to change the welding power and welding speed accordingly.
Welding speeds of up to 100-120 m / min. Such high welding speeds and beveled molten metal layers allow welding of light alloy, stainless steel, copper, brass, zirconium and other metal pipes without protection.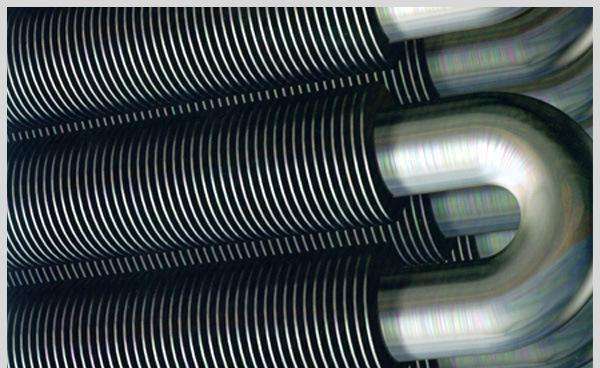 Ventajas de la máquina de soldadura de alta frecuencia para soldar tubos con aletas
La soldadura por máquina de soldadura de alta frecuencia utiliza el efecto de piel y el efecto de proximidad exclusivo de la corriente de alta frecuencia, de modo que la corriente de soldadura se concentra en la capa superficial del contacto, la temperatura de la superficie de la junta de la superficie aumenta rápidamente y la superficie a soldar se calienta a un estado plástico fundido o casi fundido Y luego se extruyó rápidamente en un método de soldadura de juntas.
Este método de soldadura tiene una serie de ventajas: la zona de la soldadura afectada por el calor es pequeña, y la velocidad de calentamiento es rápida, lo que puede mejorar enormemente la velocidad de soldadura y la calidad de la soldadura de la máquina de soldadura por frecuencia, y puede usar tiras de acero sin decapado, granallado y recorte como blanco. Al mismo tiempo, puede soldar tubos de acero aleado, acero de alta aleación y metales no ferrosos, lo que reduce en gran medida el consumo de energía de la unidad. Se puede utilizar un conjunto de equipos de soldadura para producir varios tubos de metal soldados. Para diferentes metales, solo es necesario cambiar el poder de soldadura y la velocidad de soldadura en consecuencia.
Velocidades de soldadura de hasta 100-120 m / min. Tales velocidades de soldadura elevadas y capas de metal fundido biseladas permiten soldar tuberías de aleación ligera, acero inoxidable, cobre, latón, circonio y otras tuberías de metal sin protección.
Vorteile des Hochfrequenzschweißgeräts zum Schweißen von Rippenrohren
Beim Hochfrequenzschweißmaschinenschweißen werden der für den Hochfrequenzstrom einzigartige Hauteffekt und der Näherungseffekt verwendet, so dass der Schweißstrom auf die Oberflächenschicht des Kontakts konzentriert wird, die Temperatur der Oberfläche der Oberflächenverbindung schnell ansteigt und die zu schweißende Oberfläche auf einen geschmolzenen oder nahezu geschmolzenen plastischen Zustand erwärmt wird Und dann schnell zu einem Verbindungsschweißverfahren extrudiert.
Dieses Schweißverfahren hat eine Reihe von Vorteilen: Die Wärmeeinflusszone der Schweißnaht ist klein und die Heizgeschwindigkeit ist hoch, was die Schweißgeschwindigkeit und Schweißqualität des Frequenzschweißgeräts erheblich verbessern kann, und es kann Bandstahl ohne Beizen, Kugelstrahlen und Trimmen als Rohling verwendet werden Gleichzeitig können Rohre aus legiertem Stahl, hochlegiertem Stahl und Nichteisenmetall geschweißt werden, wodurch der Stromverbrauch des Geräts erheblich reduziert wird. Mit einer Reihe von Schweißgeräten können verschiedene geschweißte Metallrohre hergestellt werden. Bei verschiedenen Metallen müssen nur die Schweißleistung und die Schweißgeschwindigkeit entsprechend geändert werden.
Schweißgeschwindigkeiten von bis zu 100-120 m / min. Solche hohen Schweißgeschwindigkeiten und abgeschrägten geschmolzenen Metallschichten ermöglichen das Schweißen von Leichtmetall-, Edelstahl-, Kupfer-, Messing-, Zirkonium- und anderen Metallrohren ohne Schutz.
Links to Lord Fin Tube: