Lord Fin Tube-Application and development of air cooler
The air cooler uses ambient air as a cooling medium, and the fan forces air to sweep across the finned tube, so that the high-temperature process fluid in the tube is cooled or condensed. The air cooler unit consists of three basic parts: finned tube bundle, fan, frame, and auxiliary parts such as shutters, maintenance platform, and ladder. Using natural air as a cooling medium saves precious water resources, reduces the discharge of industrial sewage, and protects the natural environment. Widely used in chemical industry, petrochemical, thermal power plant, polycrystalline silicon, polyvinyl chloride, metallurgical cement, production line waste incineration power plant, etc.
The development of the air cooler has gone through three stages, from the steel-aluminum composite round tube fins of the 50s to the elliptical finned tube in 70s, and the large flat tube finned tubes of the 90s. It can be said that the air cooler has made great progress. In todays society, energy is becoming increasingly tense. How to effectively use the earths resources and energy saving is a modern issue. The birth of air cooler can be said to have contributed to energy saving and emission reduction. Air cooler is an ideal substitute for shell and tube water cooler. Our company has long been committed to the research and development of air coolers. Through relevant tests and demonstrations, through practice and summary, we have developed energy-saving air coolers. The air cooler developed by our company reduces the heat transfer resistance inside and outside the tube by enhancing the heat transfer coefficient of the film inside and outside the tube, and the reasonable fin pitch is designed according to different working conditions, which can realize the enhanced heat transfer effect of the air cooler under different working conditions.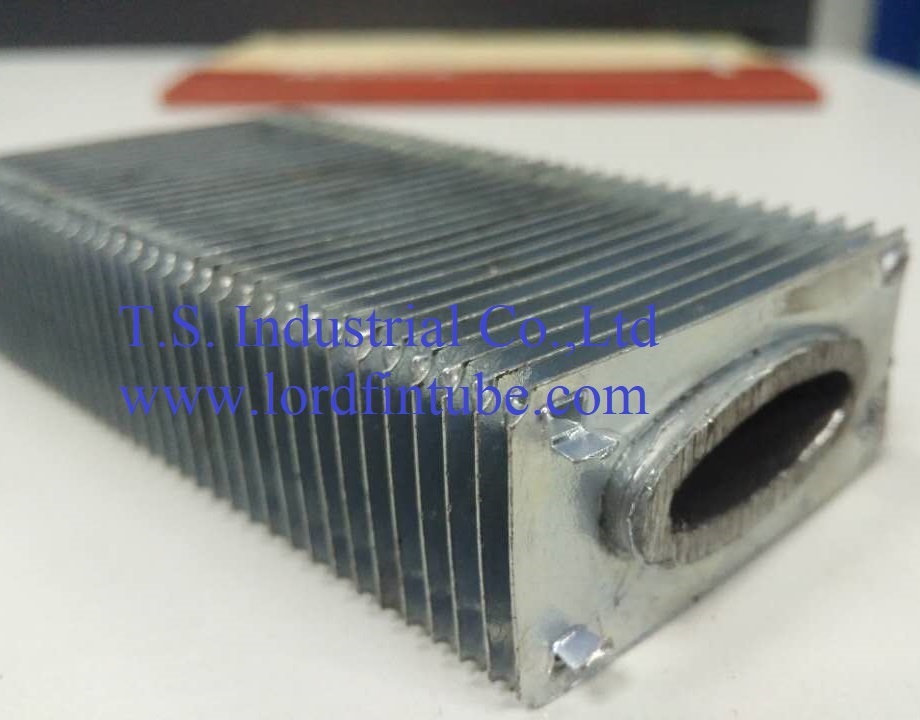 El enfriador de aire utiliza aire ambiente como medio de enfriamiento, y el ventilador obliga al aire a barrer a través del tubo con aletas, de modo que el fluido del proceso de alta temperatura en el tubo se enfría o condensa. La unidad del enfriador de aire consta de tres partes básicas: haz de tubos con aletas, ventilador, marco y partes auxiliares como persianas, plataforma de mantenimiento y escalera. El uso de aire natural como medio de enfriamiento ahorra valiosos recursos de agua, reduce la descarga de aguas residuales industriales y protege el medio ambiente natural. Ampliamente utilizado en la industria química, petroquímica, central térmica, silicio policristalino, cloruro de polivinilo, cemento metalúrgico, central eléctrica de incineración de residuos de línea de producción, etc.
El desarrollo del enfriador de aire ha pasado por tres etapas, desde las aletas de tubo redondo de compuesto de acero y aluminio de los años 50 hasta las aletas de acero de tubo elíptico de los años 70, y los grandes tubos de aletas de tubo plano de los años 90. Se puede decir que el enfriador de aire ha hecho un gran progreso. En la sociedad actual, la energía se está volviendo cada vez más tensa. Cómo utilizar eficazmente los recursos de la tierra y el ahorro de energía es un tema moderno. Se puede decir que el nacimiento del enfriador de aire ha contribuido al ahorro de energía y la reducción de emisiones. El enfriador de aire es un sustituto ideal del enfriador de agua de carcasa y tubo. Nuestra empresa lleva mucho tiempo comprometida con la investigación y el desarrollo de enfriadores de aire.A través de pruebas y demostraciones relevantes, a través de la práctica y el resumen, hemos desarrollado enfriadores de aire que ahorran energía. El enfriador de aire desarrollado por nuestra compañía reduce la resistencia a la transferencia de calor dentro y fuera del tubo al mejorar el coeficiente de transferencia de calor de la película dentro y fuera del tubo, y el paso de aleta razonable está diseñado de acuerdo con diferentes condiciones de trabajo, lo que puede lograr diferentes efectos de mejora de transferencia de calor en diferentes condiciones de trabajo.
Der Luftkühler verwendet Umgebungsluft als Kühlmedium, und der Lüfter zwingt Luft, über das Rippenrohr zu strömen, so dass das Hochtemperatur-Prozessfluid im Rohr gekühlt oder kondensiert wird. Die Luftkühlereinheit besteht aus drei Grundteilen: Rippenrohrbündel, Lüfter, Rahmen und Hilfsteilen wie Rollläden, Wartungsplattform und Leiter. Die Verwendung von natürlicher Luft als Kühlmedium spart wertvolle Wasserressourcen, reduziert die Einleitung von Industrieabwässern und schützt die natürliche Umwelt. Weit verbreitet in der chemischen Industrie, in der Petrochemie, im Wärmekraftwerk, im polykristallinen Silizium, im Polyvinylchlorid, im metallurgischen Zement, im Müllverbrennungskraftwerk der Produktionslinie usw.
Die Entwicklung des Luftkühlers hat drei Stufen durchlaufen, von den Stahl-Aluminium-Verbundrundrohrrippen der 50er Jahre bis zu den elliptischen Rohrstahlrippen der 70er Jahre und den großen Flachrohrrippenrohren der 90er Jahre. Man kann sagen, dass der Luftkühler große Fortschritte gemacht hat. In der heutigen Gesellschaft wird Energie immer angespannter. Wie man die Ressourcen der Erde effektiv nutzt und Energie spart, ist ein modernes Thema. Man kann sagen, dass die Geburt des Luftkühlers zur Energieeinsparung und Emissionsreduzierung beigetragen hat. Luftkühler ist ein idealer Ersatz für Rohrbündelwasserkühler. Unser Unternehmen widmet sich seit langem der Forschung und Entwicklung von Luftkühlern. Durch relevante Tests und Demonstrationen, durch Praxis und Zusammenfassung haben wir energiesparende Luftkühler entwickelt. Der von unserer Firma entwickelte Luftkühler reduziert den Wärmeübertragungswiderstand innerhalb und außerhalb des Rohrs, indem er den Wärmeübergangskoeffizienten des Films innerhalb und außerhalb des Rohrs erhöht. Der angemessene Lamellenabstand ist auf unterschiedliche Arbeitsbedingungen ausgelegt, wodurch unter verschiedenen Arbeitsbedingungen unterschiedliche Effekte zur Verbesserung der Wärmeübertragung erzielt werden können.
Links to Lord Fin Tube: