The heat dissipation area of the finned tube should be the sum of the effective surface area of the base tube and the total external surface area of the exposed part of the fin.
The calculation of the finned tube heat exchange area is generally calculated by adding up all the parts exposed to the air, which can be divided into three parts: 1, the surface area of the base pipe (need to deduct the thickness of the sheet) 2, the top of the fin (after the cumulative number of effective sheets Surface area) 3, the surface area of both sides of the fin. The sum of these three numbers is the heat exchange area of the finned tube.
In order to ensure efficiency, fins are usually added to the surface of the heat exchange tube to increase the external surface area (or internal surface area) of the heat exchange tube, so as to achieve the purpose of ensuring efficiency. As a heat exchange element, the finned tube works under the condition of high temperature flue gas for a long time. The high temperature and high pressure are in a corrosive atmosphere, which requires the finned tube to have high performance indexes.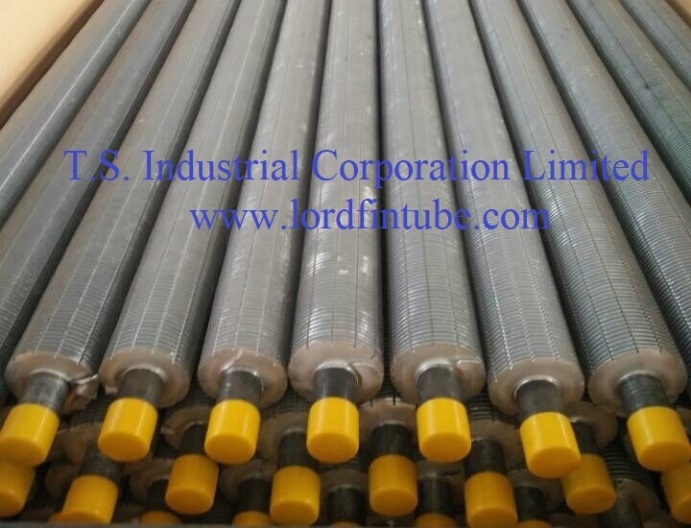 El área de disipación de calor del tubo con aletas debe ser la suma del área superficial efectiva del tubo base y el área superficial externa total de la parte expuesta de la aleta.
El cálculo del área de transferencia de calor del tubo con aletas generalmente se calcula sumando todas las partes expuestas al aire, que se pueden dividir en tres partes. El área de superficie después de la acumulación de números) 3, el área de superficie de ambos lados de la aleta. La suma de estos tres números es el área de intercambio de calor del tubo con aletas.
Con el fin de garantizar la eficiencia, generalmente se agregan aletas en la superficie del tubo de intercambio de calor para aumentar el área de la superficie externa (o área de la superficie interna) del tubo de intercambio de calor, a fin de lograr el propósito de garantizar la eficiencia. Como elemento de intercambio de calor, el tubo con aletas funciona bajo la condición de gases de combustión a alta temperatura durante mucho tiempo. La alta temperatura y la alta presión se encuentran en una atmósfera corrosiva, lo que requiere que el tubo con aletas tenga índices de alto rendimiento.
Die Wärmeableitungsfläche des Rippenrohrs sollte die Summe der effektiven Oberfläche des Basisrohrs und der gesamten äußeren Oberfläche des freiliegenden Teils der Rippe sein.
Die Berechnung der Wärmeübertragungsfläche des Rippenrohrs wird im Allgemeinen berechnet, indem alle der Luft ausgesetzten Teile addiert werden, die in drei Teile unterteilt werden können: 1, die Oberfläche des Basisrohrs (die Dicke des Chips muss abgezogen werden) 2, die Oberseite der Rippe (effektiv) Die Oberfläche nach der Zahlenakkumulation) 3, die Oberfläche beider Seiten der Flosse. Die Summe dieser drei Zahlen ist die Wärmeaustauschfläche des Rippenrohrs.
Um die Effizienz sicherzustellen, werden üblicherweise Rippen auf der Oberfläche des Wärmeaustauschrohrs angebracht, um die äußere Oberfläche (oder innere Oberfläche) des Wärmeaustauschrohrs zu vergrößern, um den Zweck der Sicherstellung der Effizienz zu erreichen. Als Wärmeaustauschelement arbeitet das Rippenrohr lange Zeit unter der Bedingung von Hochtemperatur-Rauchgas. Die hohe Temperatur und der hohe Druck befinden sich in einer korrosiven Atmosphäre, was erfordert, dass das Rippenrohr Hochleistungsindizes aufweist.