Lord Fin Tube-Oval Finned Tube
The elliptical finned tube is a heat exchange element composed of a base tube elliptical tube and outer fins. Common ones include elliptical rectangular finned tubes, elliptical elliptical finned tubes, elliptical circular finned tubes, spiral elliptical flat tubes, elliptical H-shaped finned tubes, etc. Oval finned tubes are receiving attention because of their superior performance to round finned tubes. At present, oval finned tubes have been widely used in industrial fields such as ethylene and oil refining. The elliptical finned tube is used as an efficient heat exchange element in heat exchange equipment. The external resistance of the tube is small, and the heat exchange efficiency is high, so that the heat exchange equipment tends to be compact, lightweight, efficient, and miniaturized.
There are many types of finned tubes. According to the different installation positions of fins, there are two kinds of finned tubes: inner finned tubes and outer finned tubes, and the application of outer finned tubes is more common. According to the different arrangement of fins, there are two types of finned tubes: longitudinal finned tubes and horizontal finned tubes. Depending on the shape of the base tube, the finned tubes include round finned tubes, elliptical finned tubes, and flat tube finned tubes. At present, round finned tube heat exchangers dominate the market, but a large number of tests have shown that, compared with round finned tubes, the backflow area and windward area of ​​the elliptical tube are much smaller, effectively reducing the air Side flow resistance and reduce energy consumption; when the number of tube bundles is the same, elliptical tubes and flat tubes are more compact than round tubes, the volume of the heat exchanger is smaller, and the cost is reduced. Therefore, the research and development of elliptical tube-fin heat exchangers are increasingly valued by scholars.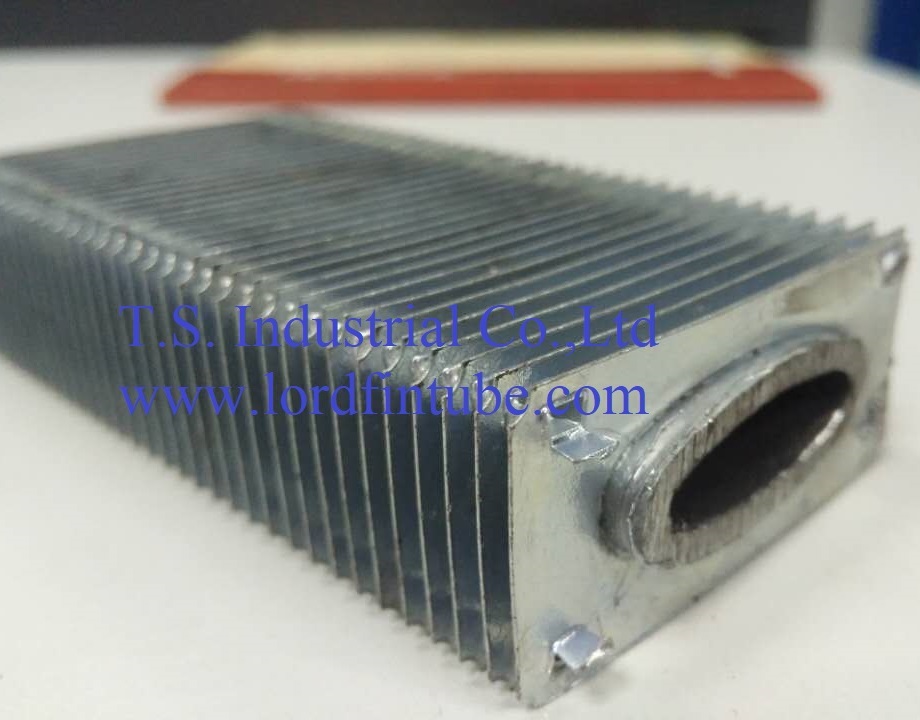 (1) Compared with round tube finned tubes, elliptical finned tubes are easier to achieve compact layout, reducing the overall volume of the entire heat exchanger, thereby reducing the footprint.
(2) Due to the shape characteristics of the elliptical fin tube, the air side resistance is small, and the heat transfer coefficient between the fluids increases; the thermal resistance in the tube is relatively small, which increases the heat transfer of the fluid in the tube.
(3) The heat transfer area of ​​the elliptical finned tube is larger than that of the circular tube with the same cross-sectional area. This is because the heat transfer perimeter of the elliptical tube is relatively long under the same cross-sectional area.
(4) The most commonly used elliptical finned tube is rectangular steel fin, which has high strength, and the base tube should not be frozen and cracked in winter, and has a long service life.
(5) Since the elliptical finned tubes can be arranged more compactly, the front row of tubes has a greater impact on the rear row, and the outer flow resistance of the tube can be reduced by increasing the fin spacing of the rear row of tubes, but the number of tube rows should not be too large .
El tubo aleteado elíptico es un elemento de intercambio de calor compuesto por un tubo elíptico de tubo base y aletas exteriores. Los más comunes incluyen tubos con aletas rectangulares elípticas, tubos con aletas elípticas elípticas, tubos con aletas circulares elípticas, tubos planos elípticos en espiral, tubos con aletas elípticas en forma de H, etc. Los tubos con aletas ovales están recibiendo atención debido a su rendimiento superior a los tubos con aletas redondas. En la actualidad, los tubos con aletas ovales se han utilizado ampliamente en campos industriales como el etileno y la refinación de petróleo. El tubo con aletas elípticas se utiliza como un elemento eficiente de intercambio de calor en equipos de intercambio de calor. La resistencia externa del tubo es pequeña y la eficiencia del intercambio de calor es alta, por lo que el equipo de intercambio de calor tiende a ser compacto, liviano, eficiente y miniaturizado.
Hay muchos tipos de tubos con aletas. Según las diferentes posiciones de instalación de las aletas, hay dos tipos de tubos con aletas: tubos con aletas interiores y tubos con aletas exteriores, y la aplicación de tubos con aletas exteriores es más común. De acuerdo con la disposición diferente de las aletas, hay dos tipos de tubos con aletas: tubos con aletas longitudinales y tubos con aletas horizontales. Dependiendo de la forma del tubo base, los tubos con aletas incluyen tubos con aletas redondas, tubos con aletas elípticas y tubos con aletas de tubo plano. En la actualidad, los intercambiadores de calor de tubo con aletas redondas dominan el mercado, pero una gran cantidad de pruebas han demostrado que, en comparación con los tubos con aletas redondas, el área de reflujo y el área de barlovento del tubo elíptico son mucho más pequeñas, reduciendo efectivamente el aire Resistencia al flujo lateral y reduce el consumo de energía; cuando el número de haces de tubos es el mismo, los tubos elípticos y los tubos planos son más compactos que los tubos redondos, el volumen del intercambiador de calor es menor y los costos se reducen. Por lo tanto, los investigadores valoran cada vez más la investigación y el desarrollo de intercambiadores de calor de aletas tubulares elípticas.
(1) En comparación con los tubos con aletas de tubo redondo, los tubos con aletas elípticas son más fáciles de lograr un diseño compacto, reduciendo el volumen total de todo el intercambiador de calor, reduciendo así la huella.
(2) Debido a las características de forma del tubo de aleta elíptico, la resistencia del lado del aire es pequeña y el coeficiente de transferencia de calor entre los fluidos aumenta; la resistencia térmica en el tubo es relativamente pequeña, lo que aumenta la transferencia de calor del fluido en el tubo.
(3) El área de transferencia de calor del tubo con aletas elípticas es más grande que la del tubo circular con la misma área de sección transversal, debido a que el perímetro de transferencia de calor del tubo elíptico es relativamente largo bajo la misma área de sección transversal.
(4) El tubo con aletas elípticas más comúnmente utilizado es la aleta rectangular de acero, que tiene una alta resistencia, y el tubo base no debe congelarse ni agrietarse en invierno, y tiene una larga vida útil.
(5) Dado que los tubos con aletas elípticas pueden disponerse de manera más compacta, la fila delantera de tubos tiene un mayor impacto en la fila posterior, y la resistencia al flujo exterior del tubo puede reducirse aumentando el espacio de la aleta de la fila posterior de tubos, pero el número de filas de tubos no debe ser demasiado grande .
Das elliptische Rippenrohr ist ein Wärmeaustauschelement, das aus einem elliptischen Basisrohr und äußeren Rippen besteht. Übliche sind elliptische rechteckige Rippenrohre, elliptische elliptische Rippenrohre, elliptische kreisförmige Rippenrohre, spiralförmige elliptische flache Rohre, elliptische H-förmige Rippenrohre usw. Ovale Rippenrohre erhalten Aufmerksamkeit aufgrund ihrer überlegenen Leistung gegenüber runden Rippenrohren. Gegenwärtig sind ovale Rippenrohre in industriellen Bereichen wie der Ethylen- und Ölraffinierung weit verbreitet. Das elliptische Rippenrohr wird als effizientes Wärmeaustauschelement in Wärmeaustauschgeräten verwendet. Der äußere Widerstand des Rohrs ist gering und der Wärmeaustauschwirkungsgrad hoch, so dass die Wärmeaustauschausrüstung tendenziell kompakt, leicht, effizient und miniaturisiert ist.
Es gibt viele Arten von Rippenrohren. Entsprechend den unterschiedlichen Einbaulagen der Rippen gibt es zwei Arten von Rippenrohren: Innenrippenrohre und Außenrippenrohre, und die Anwendung von Außenrippenrohren ist üblicher. Entsprechend der unterschiedlichen Anordnung der Rippen gibt es zwei Arten von Rippenrohren: Längsrippenrohre und horizontale Rippenrohre. Abhängig von der Form des Basisrohrs umfassen die Rippenrohre runde Rippenrohre, elliptische Rippenrohre und Flachrohrrippenrohre. Gegenwärtig dominieren Wärmetauscher mit runden Rippenrohren den Markt, aber eine große Anzahl von Tests hat gezeigt, dass der Rückflussbereich und der Luvbereich des elliptischen Rohrs im Vergleich zu runden Rippenrohren viel kleiner sind, wodurch die Luft effektiv reduziert wird Seitenströmungswiderstand und Reduzierung des Energieverbrauchs: Wenn die Anzahl der Rohrbündel gleich ist, sind elliptische Rohre und flache Rohre kompakter als runde Rohre, das Volumen des Wärmetauschers ist kleiner und die Kosten sind geringer. Daher wird die Forschung und Entwicklung von elliptischen Rohrrippenwärmetauschern von Wissenschaftlern zunehmend geschätzt.
(1) Im Vergleich zu Rundrohr-Lamellenrohren lassen sich mit elliptischen Lamellenrohren leichter kompakte Anordnungen erzielen, wodurch das Gesamtvolumen des gesamten Wärmetauschers verringert und dadurch der Platzbedarf verringert wird.
(2) Aufgrund der Formmerkmale des elliptischen Rippenrohrs ist der luftseitige Widerstand gering und der Wärmeübergangskoeffizient zwischen den Flüssigkeiten nimmt zu, der Wärmewiderstand im Rohr ist relativ klein, was die Wärmeübertragung des Fluids im Rohr erhöht.
(3) Die Wärmeübertragungsfläche des elliptischen Rippenrohrs ist größer als die des kreisförmigen Rohrs mit derselben Querschnittsfläche. Dies liegt daran, dass der Wärmeübertragungsumfang des elliptischen Rohrs unter derselben Querschnittsfläche relativ lang ist.
(4) Das am häufigsten verwendete elliptische Rippenrohr ist eine rechteckige Stahlflosse mit hoher Festigkeit. Das Basisrohr sollte im Winter nicht gefroren und gerissen werden und hat eine lange Lebensdauer.
(5) Da die elliptischen Rippenrohre kompakter angeordnet werden können, hat die vordere Rohrreihe einen größeren Einfluss auf die hintere Reihe, und der äußere Strömungswiderstand des Rohrs kann durch Erhöhen des Lamellenabstands der hinteren Rohrreihe verringert werden, die Anzahl der Rohrreihen sollte jedoch nicht zu groß sein.
Links to Lord Fin Tube: