Lord Fin Tube-Shoulder tension finned tube
"L" Foot finned tubes also called Shoulder tension finned tube, which construction assures uniform fin spacing, rigidly interlocked by the fin radius overlap over the exposed shoulder edge. This prevents separation and movement under cycling conditions within the 450°F range.
ASME SB 111 C44300 admiralty brass tubes with 2.25" OD X 11 FPI aluminum shoulder tension fins with 2" bares on each end. (462 Tubes) 1" OD X .049" X 32 long
We manufacture this finned tube using standard quality raw material with the aid of sophisticated technology in adherence to the set market standards. Due to attributes like anti-corrosive nature, leak proof finish and dimensional accuracy, offered assortment has gained huge acclamation in the market. Moreover, provided Shoulder Tension Finned Tube is suitable for high-temperature applications.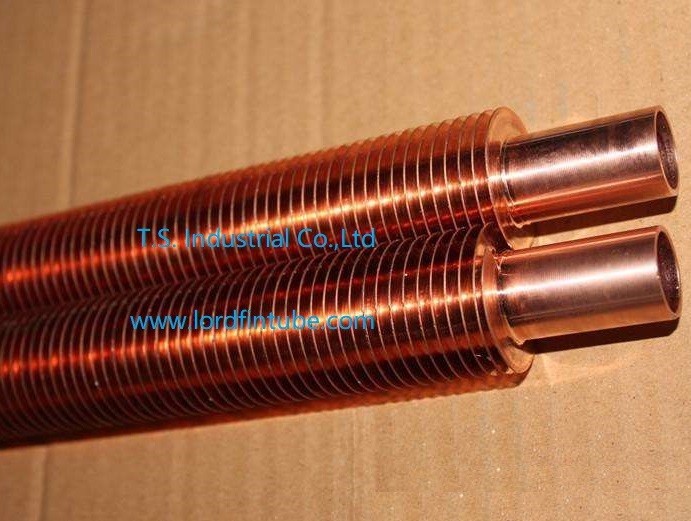 Features:Sturdiness,Easy installation,Rust proof,Flawless finish,Delivers exceptional durability support in fitting,
Excellent ductility and heat resistance property,Acclaimed for good mechanical characteristics,Ideal for all structure applications,Accurate dimension and resistivity to adverse conditions,Designed with inside radius corner that is suitable for all fabrication and structural applications,Have corrosion resistance finish,Light weight and rugged construction
Technical Details
FIN Details
Fins Height: Min 0.31 (7.87 Mm) To 0.75 (19.05 Mm) (depending On Tube Od)
Fin Density: Minimum 7 Fins Per Inch To Maximum 12.4 Fins Per Inch
Material: Aluminum & Copper
TUBE Details
Tube Diameter: Min 0.5 (12.7 Mm) To Max. 2 (50.8 Mm) Od
Tube Material: Carbon Steel, Stainless Steel, Copper & Copper Alloys Or As Per Customers Requirement.
Fins: Aluminum ASTM B209 Al 1060; ASTM B209 Al 1100, 1050A.
Fields of application
. the petroleum, chemical and petrochemical process industries
. natural gas treatment
. the steel industry: blast furnace and converter systems
. power generation
. air conditioning (Freon, ammonia, propane)
. incineration of household refuse
. compressor coolers, etc.
Supply Range of base tubes (pipes) (core tube):
Carbon Steel SA179, SA192, SA210A1, SA210C, SA106 Gr.B
Low Alloy Steel SA213, SA335, T1, T5, T9, T11, T12, T22, P5, P9, P11, P12, P22
Stainless Steel SA213, SA312, TP304L, TP316, TP316L, TP321, TP347, TP316Ti, ASTM A789/A790 UNS S31803, ASTM B677 Alloy 904L
Nickel ASTM B161 Ni200, ASTM B161 Ni201
Links to Lord Fin Tube: