ASTM A213 TP304 extruded finned heat pipe
ASTM A213 TP304 extruded finned heat pipe
ASTM A213 TP304 extruded finned heat pipe is a type of heat exchanger used in various industries for efficient heat transfer. This particular heat pipe is made of ASTM A213 TP304 stainless steel, which is known for its excellent corrosion resistance and high-temperature strength. ASTM A213 is a standard specification for seamless ferritic and austenitic alloy-steel boiler, superheater, and heat-exchanger tubes. TP304 is a grade of stainless steel often used in high-temperature applications.
The extruded finned design of the heat pipe increases the surface area available for heat transfer, making it more efficient than traditional heat exchangers. The fins are created by extruding metal through a die, resulting in a uniform and continuous surface that maximizes heat transfer.
ASTM A213 TP304 extruded finned heat pipes are commonly used in applications where high temperatures and corrosive environments are present, such as in chemical processing, power generation, and oil and gas industries. They are also used in HVAC systems and refrigeration units.
These heat pipes are manufactured to strict ASTM standards, ensuring quality and consistency in their performance. They are available in various sizes and configurations to meet the specific needs of different applications.
The combination of the ASTM A213 TP304 material and extruded fin design makes the heat pipe more efficient at transferring heat from one area to another. The fins increase the surface area of the pipe, allowing for greater contact with the surrounding air or fluid, while the stainless steel material provides excellent resistance to corrosion and high temperatures.
In conclusion, ASTM A213 TP304 extruded finned heat pipes are a reliable and efficient solution for heat transfer in various industries. Their unique design and high-quality materials make them ideal for use in harsh environments where traditional heat exchangers may not be suitable.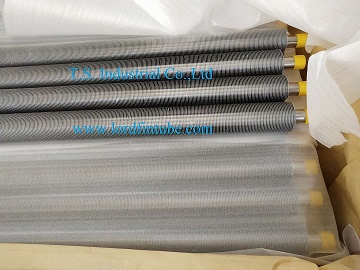 ASTM A213 TP304 extruded finned heat pipe