Air Cooled L-Foot Finned Tubes are used in: chemical plants, refineries, power plants, and more.
We provide fin tubes, L-foot finned tubes, and related products across the gulf coast region, utilizing a network of highly capable manufacturing partners. The table below summarizes MSI's common finned tubes configurations.
Tube Size Range: 1/2" to 2" Diameter
Fin Height: 1/4" to 3/4"
Fin Pitch: 4 to 13 fins/inch
Fin Thickness: 0.014" to 0.016" (1/16")
Tube Material: Carbon Steel, Stainless Steel, Brass, Copper, and Most Alloys
Fin Material: Aluminum
Tube Length: Virtually Any Length
Temperature: Up to 300°F
L-Foot Finned Tubes Construction
L-Foot finned tubes are comprised of two components, a base tube and an aluminum fin.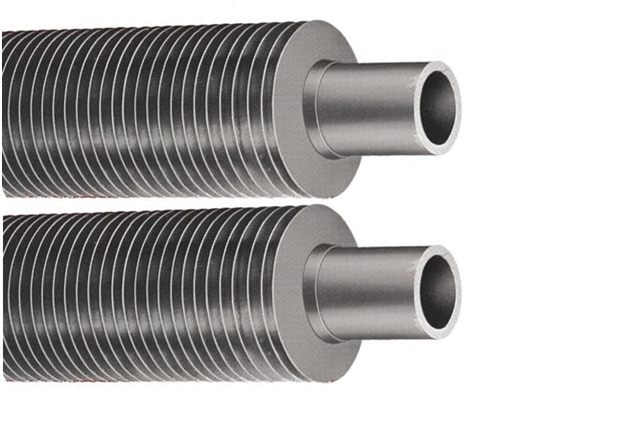 The base tube material and wall thickness will be driven by the type of fluid flowing through the finned tubes, as well as the pressure of the fluid flow. Therefore, finned tubes will range from thin-walled carbon steel to thick-walled alloy steels.
The fin component of finned tubes consists of a thin aluminium fin strip that is tightly wound around the base tube. Fins vary in their height, fin pitch, as well fin thickness. Finned tubes typically will have a fin height between ¼" to ¾", and the fin pitch (number of fins per inch) will range from 4 to 13. Fin thickness only varies slightly, and is typically around 1/16".
L-Foot Finned Tubes Benefits and Weaknesses
L-Foot finned tubes present several strong advantages. Finned tubes are an economical, provide tremendous heat transfer at lower temperatures, and they also offer greater resistance to vibration. L-Foot finned tubes also provide for uniform fin spacing and a broader contact surface between the base tube and the fin.
L-Foot finned tubes, however, are not known for their mechanical durability, as they cannot withstand significant force applied to the fin area. Great care must be taken when handling or cleaning finned tubes in order to avoid damage.
Oferta de tubos con aletas en forma de L
Los tubos con aletas de pie en L refrigerados por aire se utilizan en: plantas químicas, refinerías, plantas de energía y más.
Ofrecemos tubos de aletas, tubos con aletas de pie L y productos relacionados en toda la región de la costa del golfo, utilizando una red de socios de fabricación altamente capaces. La siguiente tabla resume las configuraciones comunes de tubos con aletas de MSI.
Rango de tamaño de tubo: 1/2 "a 2" de diámetro
Altura de la aleta: 1/4 "a 3/4"
Paso de aleta: 4 a 13 aletas / pulgada
Grosor de la aleta: 0.014 "a 0.016" (1/16 ")
Material del tubo: acero al carbono, acero inoxidable, latón, cobre y la mayoría de las aleaciones
Material de aleta: aluminio
Longitud del tubo: prácticamente cualquier longitud
Temperatura: hasta 300 ° F
Construcción de tubos con aletas en forma de L
Los tubos con aletas L-Foot están compuestos de dos componentes, un tubo base y una aleta de aluminio.
El material del tubo base y el grosor de la pared serán impulsados ​​por el tipo de fluido que fluye a través de los tubos con aletas, así como por la presión del flujo de fluido. Por lo tanto, los tubos con aletas van desde acero al carbono de paredes delgadas hasta aceros de aleación de paredes gruesas.
El componente de aleta de los tubos con aletas consiste en una delgada tira de aletas de aluminio que se enrolla firmemente alrededor del tubo base. Las aletas varían en su altura, inclinación de la aleta y grosor de la aleta. Los tubos con aletas generalmente tendrán una altura de aleta entre ¼ "a ¾", y el paso de la aleta (número de aletas por pulgada) oscilará entre 4 y 13. El grosor de la aleta solo varía ligeramente, y generalmente es de alrededor de 1/16 ".
Tubos con aletas en forma de L Beneficios y debilidades
Los tubos con aletas L-Foot presentan varias ventajas importantes. Los tubos con aletas son económicos, proporcionan una tremenda transferencia de calor a temperaturas más bajas y también ofrecen una mayor resistencia a las vibraciones. Los tubos con aletas L-Foot también proporcionan un espaciado uniforme de las aletas y una superficie de contacto más amplia entre el tubo base y la aleta.
Sin embargo, los tubos con aletas L-Foot no son conocidos por su durabilidad mecánica, ya que no pueden soportar una fuerza significativa aplicada al área de la aleta. Se debe tener mucho cuidado al manipular o limpiar los tubos con aletas para evitar daños.