Lord Fin Tube--U Bending Tube for heat exchanger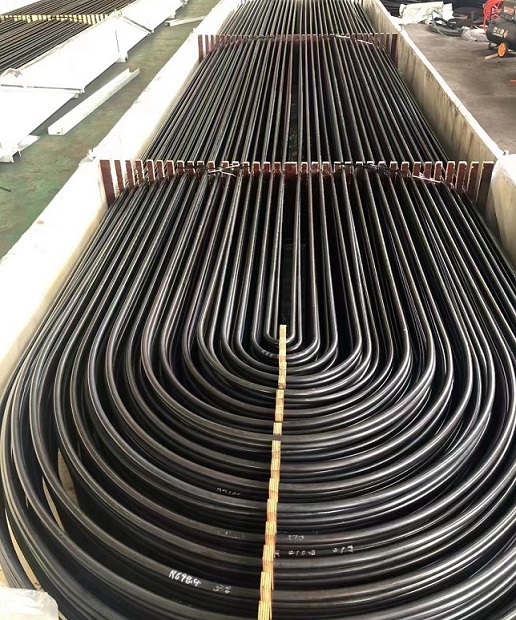 U Bending Tube for heat exchanger
U-shaped tube heat exchanger is a shell and tube heat exchanger whose tube bundle is composed of U-shaped tubes with different bend radius and both ends of the tubes are fixed on the same tube sheet. Since each U-shaped tube can be expanded and contracted freely, there will be no temperature difference stress between the tube bundle and the shell. Baffles and longitudinal diaphragms are set in the shell side. The baffle is fixed by tie rods. The longitudinal baffle is a rectangular plate, which is installed in the direction parallel to the heat transfer tube to increase the medium flow rate on the shell side. Its structure is more complex than that of fixed tubesheet heat exchanger and simpler than that of floating head heat exchanger.
201 304 U Shape Stainless Steel Tube U Bending Tube for heat exchanger
U Bending Tube:As the both ends fixed on the same tube sheet, the shell and the tube are separated so the U-type heat exchange can not thermal expanse, and the tube bundle can free stretch out and draw back, and cannot produce temperature stress due to the fluid temperature difference. The U-shaped bend is adopting hydraulic drive, bend, PLC control and pipe clamp to complete automatically. The synchronization of the cantilever and elbow movement , effectively prevents pipe sag in the bending process and adjusts speed in the process of operation. Using encoder positioning can ensure the Angle is precise, and can be set freely. In the process of running, it can not only display the movement, but also can display an error message, to help correct the operation and debug troubles, in order to ensure the safety of the operator and device and put an end to the hidden trouble of the production.
Product Name U Bending Tube
Material Copper, Carbon Steel, Stainless Steel
Type Bending
Packing Strong Plywood Case With Steel Frame
MOQ 100 Meter
Warranty 1 Year
Application Heater,Heat Exchanger Parts etc