Lord Fin Tube-Welded aluminum fin tube
How long is the service life of welded aluminum finned tube?
The mechanical suit fins are carried out on the fin suit machine. Because the fin is pressed by mechanical impact force or liquid pressure, the pressure is large, so a large amount of interference can be used. The binding strength between fins and tubes is high and it is not easy to loosen. The productivity of the machine is high, but the noise is big, the safety is bad, and the working conditions of the workers are not good. Although the hydraulic transmission does not have the above problems, but the equipment price is more expensive, the technical requirements for the use of maintenance personnel are higher, and its productivity is lower.
The guide of welded aluminum fin tube to flue gas overcomes the Carmen eddy current, and combs the distribution of ash to make it evenly distributed in flue gas. Stable heat transfer performance. As a heating surface, the temperature fluctuation of boiler exhaust gas has little change in many years (no soot blowing) operation, and there is no tube explosion of economizer. Long service life. Under the same operating conditions (coal quality, temperature, heating surface position), the guaranteed life of welded aluminum fin tube is more than 2 times of that of smooth tube. Generally, the service life of smooth tube is 3-4 years, and the service life of welded aluminum fin tube is at least 7-8 years.
Although the contact thermal resistance of high frequency welding fins is small, the area of fins is limited and the heat transfer of fins is poor. Therefore, the overall thermal efficiency of welded aluminum fin tube is not high. Except for some special processes, it is seldom used in general. Therefore, it is not suitable to apply high frequency welded aluminum fin tube heat exchanger to air cooler.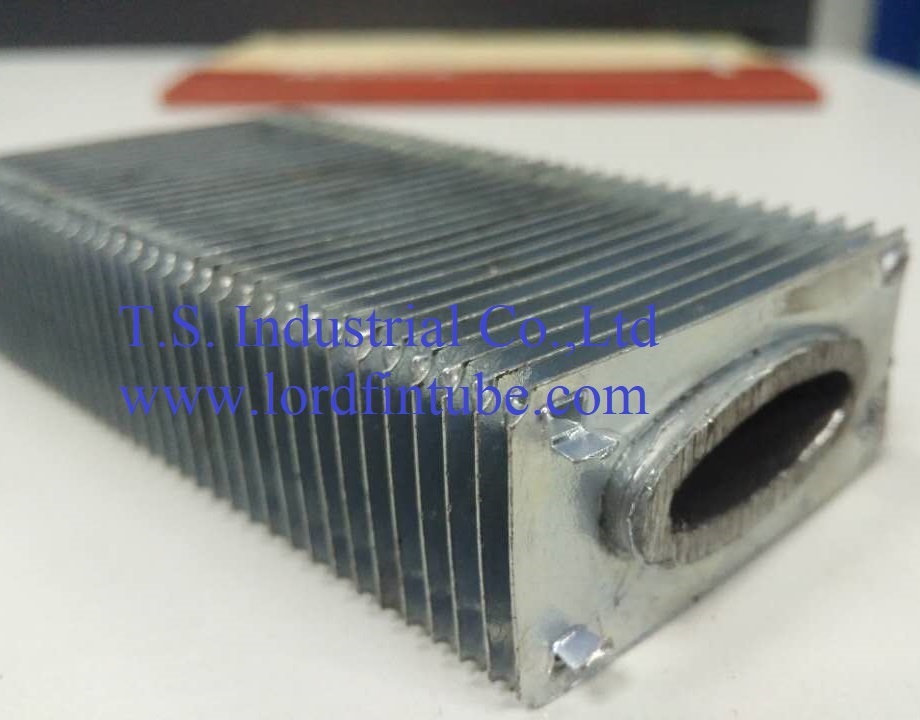 ¿Cuánto tiempo dura la vida útil de un tubo de aleta de aluminio soldado?
Las aletas mecánicas se hacen en un avión de aletas.Dado que la presión de las aletas se basa en una fuerza de choque mecánica o en una presión líquida importante, se puede utilizar un exceso de presión mayor.La combinación de aletas y tubos es muy fuerte y no se relaja fácilmente.Las máquinas de corretaje mecánicas son muy productivas, pero hacen mucho ruido, tienen poca seguridad y las condiciones de trabajo de los trabajadores son deficientes.Si bien no existen problemas con la transmisión hidráulica, el equipo es más caro, los requisitos técnicos para el uso de personal de mantenimiento son mayores y la productividad es menor.
La conductividad de los tubos de aleta de aluminio soldada al humo superó el vórtice Carmen, mientras que la distribución de la ceniza se rectificó para que fuera uniforme en el humo.Transmisión de calor estable.La estructura de un cuerpo como superficie de exposición al calor no varía mucho en la temperatura de salida de humo de las calderas durante años (sin soplar la ceniza) y no se producen explosiones de tuberías de carbón.Larga vida útil.En las mismas condiciones de funcionamiento (carbón, temperatura, ubicación de la superficie de la superficie calentada), la vida útil garantizada de los colectores de aluminio soldado es dos veces mayor que la de los tubos ópticos.Por lo general, los tubos de aleta de aluminio soldada tienen una vida útil de 3 a 4 años.
Las alas de soldadura de alta frecuencia, aunque con poca resistencia al calor, tienen una superficie limitada y su espesor varía en función del calor, por lo que el calor total de los tubos de aleta de aluminio soldado es ineficiente.Salvo algunos procesos especiales, en general se utilizan menos.Por consiguiente, no es apropiado que los intercambiadores de calor de tubos de aleta de aluminio de soldadura de alta frecuencia se utilicen en enfriadores vacíos.
Links to Lord Fin Tube: