Lord Fin Tube-Finned tube type steam heat exchanger
The overall structure of finned tube type steam heat exchanger.
The steam heat exchanger mainly consists of four parts:
Part I finned tube
There are two types of finned tubes in the steam heat exchanger: the first is steel finned tube, which is a circle of wavy fins wound on the outer wall of the steel tube. The fins are closely contacted with the steel tube through the winding machinery, and the heat is exchanged through the winding contact surface; the second is steel aluminum composite finned tube, which is rolled by the rolling machinery The aluminum tube is sheathed on the outside of the steel tube and enters the rolling machine. The aluminum tube is rolled into a circle of aluminum fins by the rolling tool.
Part II framework
After the fin tube is completed, the fin tube is fixed on the end plate frame of the steam heat exchanger. This arrangement is not a normal parallel arrangement, but a cross dislocation arrangement. The purpose is to achieve turbulence and enhance the heat transfer characteristics of the gas.
Part III connection
After the fin tube is placed, the elbow is used to connect the fin tubes together to achieve the continuity of the fluid channel in the fin tube.
Part IV import and export settings
When the steam heat exchanger is arranged, the steam enters from the upper end of the equipment and exits from the lower end of the equipment.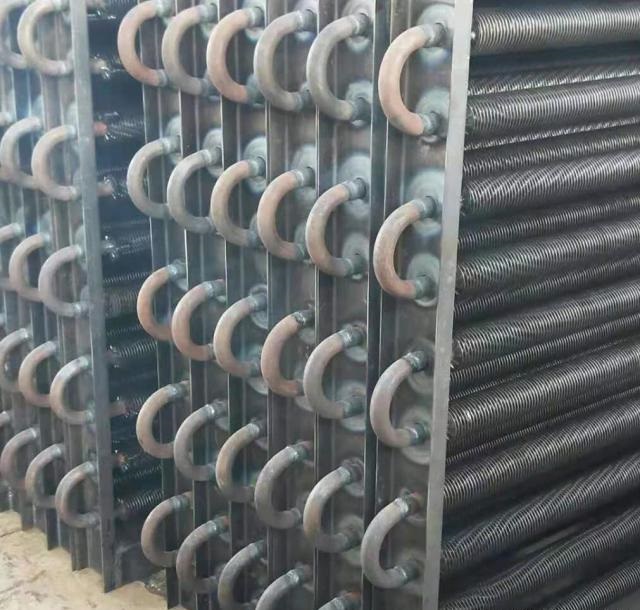 La estructura general de un intercambiador de calor de vapor con tubo con aletas.
El intercambiador de calor de vapor consta principalmente de tres partes:
Parte uno tubo aleteado
El tubo con aletas del intercambiador de calor de vapor adopta principalmente dos estilos: el primero es un tubo con aletas de acero, es decir, una aleta en forma de onda enrollada alrededor de la pared exterior del tubo de acero. La aleta es seguida de cerca por el tubo de acero a través de la bobinadora Cuando se contactan juntos, el calor se transfiere a través de esta superficie de contacto del devanado; el segundo tipo de tubo con aletas de compuesto de acero y aluminio, el tubo con aletas de compuesto de acero y aluminio es a través de la máquina de laminación, el tubo de aluminio se envaina fuera de la tubería de acero y entra en la máquina de laminación , Laminado de tubos de aluminio en aletas de aluminio con herramientas de laminación.
Parte Dos Marco
Una vez completado el tubo con aletas, el tubo con aletas se fija en el marco de la placa final del intercambiador de calor de vapor. Esta disposición no es una disposición paralela convencional, sino una disposición de desplazamiento cruzado. El objetivo es lograr un flujo turbulento y mejorar las características de intercambio de calor del gas.
Parte III Conexión
Después de colocar los tubos con aletas, los codos se utilizan para conectar los tubos con aletas para lograr la continuidad de los canales de fluido en los tubos con aletas.
Parte IV Configuración de importación y exportación
Cuando el intercambiador de calor de vapor está dispuesto, el vapor ingresa desde el extremo superior del equipo y sale del extremo inferior del equipo.
Die Gesamtstruktur eines Rippenrohrdampfwärmetauschers.
Der Dampfwärmetauscher besteht hauptsächlich aus drei Teilen:
Teil Eins Finned Tube
Das Rippenrohr des Dampfwärmetauschers nimmt hauptsächlich zwei Arten an: Das erste ist ein Stahlrippenrohr, dh eine wellenförmige Rippe, die um die Außenwand des Stahlrohrs gewickelt ist. Auf die Rippe folgt das Stahlrohr durch die Wickelmaschine Wenn sie miteinander in Kontakt gebracht werden, wird die Wärme durch diese Wickelkontaktfläche übertragen. Der zweite Typ eines Stahl-Aluminium-Verbundrippenrohrs, das Stahl-Aluminium-Verbundrippenrohr, wird durch die Walzmaschine geführt, das Aluminiumrohr wird außerhalb des Stahlrohrs ummantelt und tritt in die Walzmaschine ein , Rollen von Aluminiumrohren mit Rollwerkzeugen in Aluminiumlamellen.
Teil Zwei Framework
Nachdem das Rippenrohr fertiggestellt ist, wird das Rippenrohr am Endplattenrahmen des Dampfwärmetauschers befestigt. Diese Anordnung ist keine herkömmliche parallele Anordnung, sondern eine Kreuzverschiebungsanordnung. Der Zweck besteht darin, eine turbulente Strömung zu erreichen und die Wärmeaustauscheigenschaften des Gases zu verbessern.
Teil III Verbindung
Nachdem die Rippenrohre platziert wurden, werden die Rippenrohre mit den Bögen miteinander verbunden, um die Kontinuität der Fluidkanäle in den Rippenrohren zu erreichen.
Teil IV Import- und Exporteinstellungen
Wenn der Dampfwärmetauscher angeordnet ist, tritt Dampf vom oberen Ende des Geräts ein und tritt vom unteren Ende des Geräts aus.
Links to Lord Fin Tube: